Malcolm Baldrige National Quality Award
2006 Award Recipient, Small Business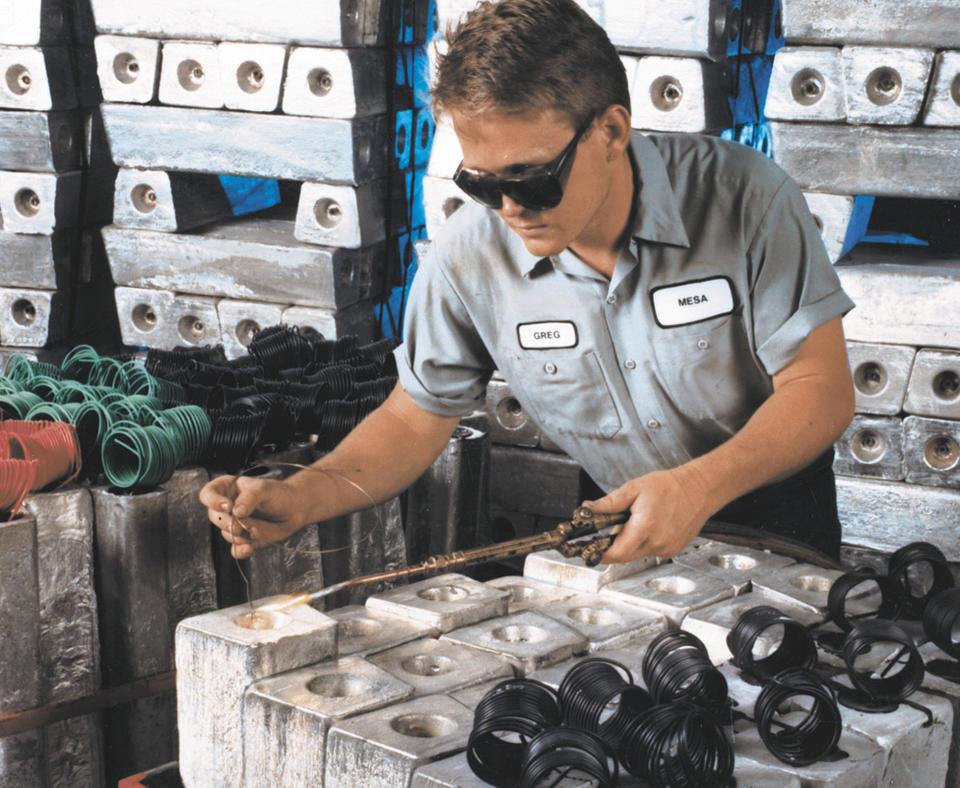 Highest-Ranking Official*
Terry F. May
President
*At time of award
---
For more information
MESA Products, Inc.
P.O. Box 52608
Tulsa, OK 74152
(888) 800-MESA (6372)
sarfraz.shaikh [at] mesaproducts.com (sarfraz[dot]shaikh[at]mesaproducts[dot]com )
http://www.mesaproducts.com
MESA Products, Inc. is a small, privately held business that designs, manufactures, and installs cathodic protection systems which control the corrosion of a metal surface. This electrochemical form of corrosion control is applied to underground or submerged structures, such as pipelines and tanks. Products and materials are sold to a variety of contractors, end-users, and resellers across the United States, while technical and installation services are provided primarily to the mid-continent, southwest, and southeast United States.
Revenues: $25 million
Workforce: 70
Locations: Tulsa, Oklahoma (headquarters); Houston, Texas; Tallahassee, Florida
---
Highlights
MESA Products, Inc., has demonstrated sustained sales growth from 1985 to 2006. Sales have increased from less than $2 million in 1985 to over $25 million in 2006. In a mature industry with limited new business, MESA has achieved this growth primarily through gains in market share from its competitors.
Return on equity improved from -5% in 1999 to over 25% in 2005 and presently exceeds industry competitors by 20%.
MESA's current performance in all 17 areas of satisfaction on its third-party Customer Satisfaction Survey exceeds that of its best competitor. From 2002 to 2005, its overall level of customer satisfaction increased from 80% to 88%, surpassing the best competitor and American Customer Satisfaction Index of Energy Utilities (ACSI) levels of approximately 73%.
Lean manufacturing concepts have helped MESA achieve cycle time and productivity improvements. For example, throughput time in the magnesium assembly area improved by 82%, output in the instrumentation equipment assembly area increased by 60%, lead time for the sales order entry process was reduced by 30%, and error rates were reduced by 50%. On-time shipments are now at 97%.
In 2005, MESA supported 17 key community activities, with more than 50% of employees participating in activities such as Food for Families, the Oklahoma Blood Institute, and Adopt-a-Family, and donated $45,000 to eight community organizations, an average of more than $600 per employee.
Results from MESA's employee satisfaction survey show performance levels for the 17 surveyed attributes are 20% or more above the industry normative comparisons, and most meet or exceed the top 10% of the group of companies included in the survey conducted by a third party research organization.
Starting in 2002, MESA was instrumental in identifying and addressing a key industry issue: poor-quality magnesium anodes. As a result of MESA's actions, by 2005, many in the industry were aware of this issue and quality of anodes had improved.
---
Resources
Search All Baldrige Award Recipients
Baldrige Award Recipient FAQs
Attend Quest for Excellence
How Baldrige Works
Baldrige Program Impacts