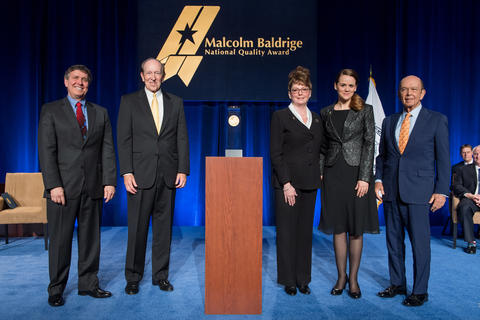 Maryruth Butler
Executive Director, Kindred Nursing and Rehabilitation Center—Mountain Valley
As Prepared for Delivery, April 2, 2017
Thank you, Secretary Ross, the entire Baldrige community, and honored guests.
It is with tremendous pride and great humility that I accept the 2016 Malcolm Baldrige National Quality Award on behalf of our 90 dedicated employees and numerous volunteers that are committed each day to providing the highest quality of care, in an environment of respect and compassion, for every patient and resident we serve.
It is a great honor to be recognized for the incredible hard work and innovative spirit that has brought us to where we are today – the first skilled nursing and rehabilitation center to be recognized by the Baldrige Program. We understand, with this honor comes a responsibility to continue our journey, to uphold the standards of this award, and to assist other skilled nursing centers on their quest for excellence.
We began our journey based on our commitment to be better. We had no idea what that entailed, but we knew we wanted to be an excellent organization.  We were introduced to the Baldrige Framework in 2008 through the American Health Care Association's three-tiered Quality Award Program, in particular, the Gold Level Award.  In the beginning, responding to the criteria was about improving our results and our processes, but we quickly realized we were changing our culture, building and supporting one that thrives on innovative thinking and intelligent risk taking. We had learned that our patients and residents had become accustomed to that dreaded two-letter word, 'no.'  Our aim was to turn that around. Our aim is the culture of 'yes.' This approach has lead to some pretty "healthy debates" during our morning Stand-Up Meetings … the "What If" discussions, but better yet, 100% of our patients and residents have expressed either "very" or "extreme" overall satisfaction levels since 2013, and nearly 100% of our workforce report "feeling encouraged to come up with new and better ways of doing things!"   
To our senior leaders, I am most honored to be accepting this award in your presence. Thank you all for your daily focus on what to do to be better, but equally your focus on what not to do, and what to stop doing that has sustained our culture of excellence.  I must recognize those who are not here today, staying home to take care of our residents and patients, we all share equally in this moment of pride, as Helen Keller stated "alone we can do so little, together we can do so much."   
I especially want to thank Dr. Haller, who has served our community for 41 years – but more importantly has dedicated the last 25 years as our Medical Director. Thank you for your commitment to our center and for traveling to be with us here tonight. 
I also cannot leave without acknowledging a few others – first, Kindred Healthcare, in particular,  Michael Beal, Gwynn Rucker, and Zendi Meharry, for all your steadfast support of our center and our employees; second, the Baldrige examiners, for all of your time and effort through this entire process, including your travels to North Idaho; and finally, a very special thank you to Kay and Glenn for your never-ending encouragement, and to Adina for always being there and taking every step of this journey with us.  
This has been one of the most amazing journeys I am sure a Skilled Nursing Facility could ever experience. Six years ago, when our center was deemed "Gold Worthy" and we were asked, "What's Next?" Our response was "success is not final." And as we continue our journey we will continue to apply what we have learned through the Baldrige Program so our patients, residents, and customers can experience the Excellence they deserve.
On behalf of myself and everyone at Kindred and Mountain Valley, thank you for this honor!