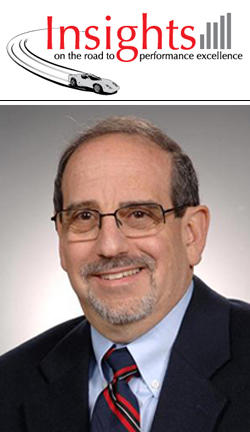 Summer 2017
Two years have gone by since I last explored hot topics for CEOs—what is keeping them up at night, and where do they see the greatest opportunities. In addition to identifying this year's top issues, I have looked at what has changed in two years and what remains the same. As in the past, the findings are generally applicable across industry sectors and organizations of various sizes and worth consideration by those in nonprofit and governmental, as well as for-profit entities.
I have combined what I have heard from senior executives, what I have read in blogs and publications of all types, and what I have learned from seven specific studies. I have identified seven areas that are receiving significant CEO or senior executive attention in 2017. These areas provide both opportunities and challenges.
First I will briefly review the nine areas identified in 2015. Then I will describe the seven studies included in the current study, share the seven areas for consideration in 2017 and briefly relate them to how the 2017–2018 Baldrige Excellence Framework is addressing these topics, and finally comment on the similarities and changes in considerations from 2015 to 2017.
Issues from 2015
Following are the nine areas from 2015, with some brief explanations:
Customer Relationships: the need for greater focus on customers as individuals
Workforce Strategies: the availability of skilled employees. Skills went beyond technical skills to include the need for diversity and inclusiveness in the workforce. CEOs talked about increasing needs to grow their own talent internally.
Systematic Processes and Creativity: the dynamic tension between the need for systematic processes to increase effectiveness and efficiency and the growing need for adaptability, flexibility, and creativity to address customer desires and remain competitive
Cybersecurity
Social Media/Digital Interaction: the use of social/digital interaction in their businesses, including the growing importance of mobile technology
Collaboration, Partnering, and Alliances: entry into strategic alliances or joint ventures and the need for more external partnering for innovation (IBM)
Ethics and Social Responsibility: a need for more organizational openness, ethical accountability, and the pursuit of opportunities for growth with the interests of society in mind
Big Data and Analytics: better analytics and the use of data to achieve efficiency, effectiveness, and overall competitiveness
Regulation: a concern about overregulation in the future and, for organizations operating in multiple jurisdictions, the complexity of differing and even competing regulations
The Seven Studies
The first study, entitled "The 10 Biggest Challenges for CEOs in 2017," was produced by Business News Daily (BND). It involved interviews with business leaders, each stating what he or she believed to be the biggest challenge facing CEOs in 2017. The second study, entitled "FORUM: CEO Challenges in 2017: Risk and Transformation," is from Financier Worldwide Magazine (FWM). It is based on a discussion between Maggie Wilderotter, chairman and CEO of Grand Reserve Inn and former CEO of Frontier Communications; Horst J. Kayser, chief strategy officer at Siemens AG; and Susan Stautberg, chairman, CEO, and co-founder of WomenCorporateDirectors Foundation. The third study is part of the World Economic Forum Annual Meeting 2017 and is entitled "4 Concerns that Keep CEOs Awake at Night."  The World Economic Forum (WEF) conducted its first survey 20 years ago.
The fourth study was produced by the Conference Board (CB). It is entitled "Leading through Risk, Disruption, and Transformation." This study is based on a survey of 555 CEOs worldwide. The fifth study, entitled "Redefining Competition, Insights from the Global C-Suite Study—the CEO Perspective," was produced by IBM. It involved the perspectives of 818 CEOs and focused, in particular, on what the CEOs of the world's most successful enterprises do differently than other CEOs. The sixth study, entitled "The Business of Business Is No Longer Just Business," is based on research by the Boston Consulting Group (BCG). The final (seventh) study comes from the November 2016 issue of Harvard Business Review (HBR) and is entitled "The Best-Performing CEOs in the World." It is based on a roundtable discussion with the three CEOs ranked as the top three globally on HBR's annual ranking of the 100 best-performing CEOs. The CEOs are Lars Rebien Sorenson, CEO of Novo Nordisk; Martin Sorrell, CEO of WPP (the world's largest marketing-services firm); and Pablo Isla, CEO of Inditex, a fast-fashion retailer.
The Seven Areas for 2017
I have listed the seven areas in order of decreasing mention across the seven studies. The first area was mentioned in all seven studies. The last three areas were included in three of the seven studies. All the areas are considerations in many current strategic-planning discussions. The seven studies helped crystallize my thoughts. The identification of the seven areas are derived from my synthesis of the material and not necessarily from the topic headings in individual studies.
Uncertainty and Resilience: In the FWM Forum, Kayser starts his comments with the statement, "One thing is for sure: uncertainty will continue to dominate our lives in the future." Wilderotter references uncertainty in the regulatory environment, free trade, tax reform, technological disruption, and political instability around the globe. Many of the same concerns are expressed by BCG, which goes further in saying that business leaders believe that political and economic considerations will impact performance more than competitive considerations. The HBR CEOs focused heavily on political instability as the main contributor to uncertainty. The WEF referred to "being ready to flex in a world of flux." The CB concluded that the fear of global recession was the number-one concern of CEOs.

The IBM study placed a focus on disruptive innovation, where traditional industry classifications no longer exist. According to IBM, ten years ago CEOs put technology sixth on their list of external factors and today it is the top factor on their list. One outcome is that the CEOs of the most successful enterprises are placing a high premium on agility and experimentation, according to the IBM study. BCG says organizations must build multilevel scenarios, do contingent thinking, and become more resilient to sustain themselves. The most successful organizations will use these techniques to gain competitive advantage from external shocks.

The Baldrige framework has organizational learning and agility as one of its core values. One of the focus areas for the 2017 revisions to the Baldrige Criteria for Performance Excellence (part of the framework) is enterprise risk management, helping organizations recognize that no organization is risk-free and that dealing with risk can mean the difference between extinction and survival or even role-model performance. The Criteria ask how you consider changes in the regulatory and external environment in developing your strategy. The Criteria also ask about how you consider potential blind spots in your information gathering.
 
Finding the Right Employees: CEOs are concerned with finding and retaining employees at every level of their organizations. Seventy-seven percent of the CEOs in the WEF survey are concerned that a shortage of skilled workers could hinder their organizations. Attracting and retaining top talent is the top concern of CEOs in the United States, according to the CB. In addition, the CB found that CEOs' number-two concern globally is developing the next generation of leaders who have the skills to evolve the business.

Hiring has transitioned from finding people with the right skills to finding those skills in people who match the organization's values and culture. The studies continued to emphasize that organizational strategy can't be executed without the right skills and culture. Forefront CEOs in the IBM study talked about employees and managers having a critical skill for cultivating and managing relationships as organizations do more external partnering and develop greater interdependencies (see partnerships and interdependency below).

A Baldrige framework core value was modified several years ago to encompass valuing people more broadly, including employees and external partners, in recognition of shifting skills and cultural needs. The Baldrige Criteria place a specific focus on hiring and retaining employees who fit the organizational culture. The Criteria ask about factors of employee engagement and career progression for your workforce and future leaders.
 
Short-Term and Long-Term Value Creation: CEOs are challenged by the need to produce short-term results, react to unexpected problems, and prepare the organization for success over the long term through strategic investments. WEF CEOs state that they struggle to prioritize the long- over the short-term performance due to shareholder pressures. Maybe for that reason, CEOs are more confident about their 12-month revenue outlook (38 percent vs. 35 percent in 2016); they have become more accustomed to uncertainty and have increasingly capitalized on unpredictable circumstances.

CEOs need to be prepared to make long-term investments in innovation, not just better quarterly financial performance, according to the IBM study. Indeed, the HBR paper is subtitled "Resisting the Lure of Short-Termism." Sorrell states, "Our company is focused on the long term. We take into account every one of our stakeholders." He laments that the most powerful companies (those in the S&P 500) returned more to shareholders last year than they earned. Companies are becoming more cautious and much more short-term-oriented in their thinking. HBR CEOs agree that executives' rewards should be based on long-term performance.

Two of the Baldrige framework core values are focus on success and managing for innovation. Success is based on a combination of the short- and longer-term factors that affect your organization and its marketplace. The Baldrige Criteria ask how your strategy considers and balances the needs of all stakeholders and balances the short- and longer-term planning horizons. They also ask how you stimulate and pursue innovation.
 
Partnerships and Interdependency: As stated in several of the studies, increasing inability to do all the work for multidisciplinary products and services plus increasing globalization means that leaders need to embed their organizations in interrelated domestic and global systems. As IBM states, "a growing number of businesses are combining in cross-industry ecosystems." These ecosystems will result in new business models, new customers, new talent pools, and much greater efficiency in meeting customer expectations. Rather than controlling their whole value chain, organizations will share it. According to the WEF Forum, 28 percent of CEOs will rely more heavily on temporary workers. And they are looking across borders to find these workers. The result will be new partnership arrangements, consortia, value chains, and business models.

The Baldrige Criteria embed these concepts in the strategic consideration of work systems, core competencies, and (internal) work processes. A future focus may need to include greater sensitivity to ecosystems.
 
Big Data: The magnitude of the big data challenge is concisely stated by Kayser in the FWM forum: By the year 2000, 2 billion gigabytes of data had been accumulated worldwide; today the same amount is generated in a single day. According to the CB study, two-thirds of CEOs believe that a failure to embrace digital transformation will damage their ability to remain competitive over the next ten-year horizon. According to the IBM study, 66 percent of forefront CEOs actively use predictive analytics to decipher and leverage the data they now collect.

The availability of large amounts of data challenges our ability to practice the Baldrige framework core value of management by fact because it is increasingly difficult to analyze the data available and extract larger meaning for the benefit of organizational decision making. But this is the challenge we face. The Baldrige Criteria ask you how you use these data to develop information for performance reviews, performance improvement, and strategic planning.
 
Customer and Market Orientation: Customer expectations are changing. There is a growing desire for customization and immediacy of delivery, whether of product, service, or supply chain. According to the IBM study , 71 percent of CEOs anticipate adopting a more individualized approach to customers, a 29 percent increase over 2013. Organizations are creating new vertical and horizontal alignments to fulfill customer and market demands for "full service" or new, more integrated products (e.g., one device that houses your phone, video and audio entertainment, reading material, and camera).

Organizations are trying to stand out from their competitors through new and novel offerings (possibly through early ecosystems; see partnerships and interdependency above). Competition is coming from different industries that suddenly invade "your" market space. As stated in the IBM study, "The risk for incumbents is that their business models will be turned into Swiss cheese." Customer desires and market opportunities are breaking down old business siloes.

Two of the Baldrige framework core values are customer-focused excellence and managing for innovation. Customer-focused excellence is about considering all product and service features and characteristics and all modes of customer access that contribute to value for your customers. Customer-focused excellence includes anticipating future customer desires and marketplace potential. Managing for innovation includes collaboration among people who did not historically work together. This core value may need broadening in the future to include organizations which did not historically work together. Since customer focus is so central to the Baldrige framework, this area of customer and market orientation pervades the Baldrige Criteria questions, from category 3 on customers, to work systems, innovation, and knowledge management.
 
Cybersecurity: According to the CB study, number-three on the list of global CEO worries is cybersecurity. Today, every person and every organization is a potential target. Cyberattacks are increasing at an annual rate of approximately 40 percent. As organizations make greater use of digital technologies, they heighten their concern and need for cybersecurity.

One of the focus areas for the revisions to the Baldrige Criteria in 2017 is cybersecurity, in recognition of the growing importance of this area to organizational performance management and achievement. While the topic was previously covered in the Baldrige Criteria, the 2017–2018 Criteria ask more questions about the security of data, information, and systems and how you deal with cybersecurity threats, potential attacks, and breaches.
CEO Issues of 2015 and 2017
Comparing the CEO issues in 2015 and 2017 reveals some subtle differences, a few significant changes, and a great deal of overlap or ongoing concern. The 2015 areas that have disappeared from the top issues list are the focus on the need for systematic processes, social media and digital integration, the fear of overregulation, and ethics and social responsibility. The disappearance of social media and digital integration probably reflects growing comfort and use of these technologies. Overregulation, which was last on the list in 2015, has been replaced by uncertainty on the top of the list in 2017. However, the concerns related to uncertainty are much broader and relate to events of the past two years—the growth of disruptive technologies, elections and growing political divides around the globe, and economic uncertainty in global markets (Brexit being one notable example).
The disappearance of ethics and social responsibility is interesting and can only be speculated about. It may be that these past two years have seen a growing operational focus on ensuring ethics and social responsibility as good business practice, so that the strategic focus for CEOs has declined. That said, one vestige of this concern was expressed by CEOs as part of several of this year's top issues, in terms of trust. CEOs talked about gaining and retaining customer trust and, on the operational side, finding employees who can be trusted as part of finding the right employees.
Some of the issues have been sharpened from 2015 to 2017. For example, a clearer statement of employee-related CEO concerns has emerged. The challenges of big data are becoming clearer, and the relationship to cybersecurity challenges has been brought into focus. The area of partnerships and interdependency has been broadened to an ecosystem and overall value-chain discussion from a more limited focus on collaboration, partnering, and some strategic alliances in 2015.
Perhaps the most interesting change in 2017 is the significant concern over balancing short- and long-term organizational success. I see this as a ray of hope that leading CEOs are concerned about a better balance of focus toward the long term.
I look forward to another look at these challenges a few years down the road to see what has remained the same and what has changed in our insights on the road to performance excellence!
Resources
Why Not You? (Spring 2017)
Archived Columns