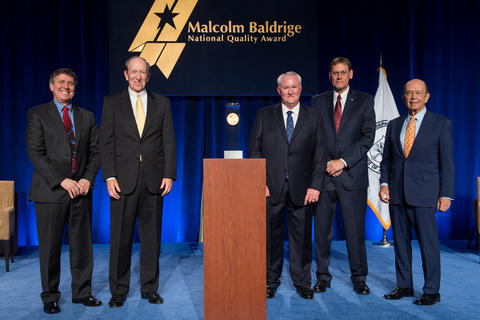 Gary Housley 
President and Dealer Principal, Don Chalmers Ford
As Prepared for Delivery, April 2, 2017
Thank you, Secretary Ross and my heartfelt thanks to the entire Baldrige community for this tremendous honor.
It is with tremendous pride yet equally tremendous humility that I accept the 2016 Malcolm Baldrige National Quality Award on behalf of the all the employees, and the families of Don Chalmers Ford, and the thousands of customers we serve. I would like to recognize the people who are here today to share in this celebration. I am honored to work with such Servant Leaders. It would have been wonderful to have all our employees here to enjoy this great moment but we still have customers back home that need to be served. Here or there we all share equally in this moment of pride.
I would especially like to recognize the committed Baldrige and Quality New Mexico examiners and judges whose dedication to providing us rich feedback helped us grow and improve. Also, I would like to thank John Vinyard and Marlene Yanowsky for their continued pushing, prodding and support as we motored down our Quality Boulevard.  
It is very gratifying to share the stage with the other recipients. Congratulations to your organizations and all your employees.
Don Chalmers Ford started this journey more than 20 years ago to improve the way selling and servicing vehicles was done. Even before our facility was built, we looked at it from the customer's perspective and designed it to provide the customer with a better experience. We knew that this was our start down the quality road but we had no idea where it would lead us. We got involved with Quality New Mexico and decided to apply for the Road Runner Award. That was in 1998 and look where we are today. However, winning the Baldrige Award, while a tremendous achievement, is only a milestone. The journey is far from finished.
Through our quality journey, we have proven to our community, nation and ourselves that the Baldrige Framework provides a business model that drives high performance.  Year after year, our results demonstrate growth in our customer loyalty, revenues and employee engagement. To me, though, the real magic of Baldrige and our journey is driving a culture of continuous improvement, a culture centered on listening intently to our employees and customers. We use their voices to anticipate and innovate our business processes and services to ensure we are meeting our customers and employees needs today and in the future. The Baldrige Award is not a destination, but a launching point for the next chapter in our journey of performance excellence. 
Thank you for recognizing my company's efforts to be a quality organization.