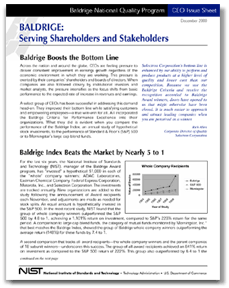 Baldrige: Serving Shareholders and Stakeholders(PDF) addresses a significant challenge facing the CEOs of American business. This issue sheet
establishes a correlation between award-winning companies and healthy bottom lines;
cites a hypothetical stock study, the Baldrige Index, that tracks the performance of Baldrige Award recipients against the performance of companies in other indices, i.e., Standard & Poor's 500 and Morningstar's large cap blend funds (recipients tend to outperform other companies by significant margins); and
proposes that more companies consider using the Baldrige Criteria to perform self-assessments, which are a strategic component for many companies striving for performance excellence.
---
You need to have Acrobat Reader installed on your computer to view the PDF file. If you do not have Acrobat Reader installed on your computer, click on the Acrobat icon below and download the program. People with visual disabilities can download tools and information at http://access.adobe.com to help make Adobe PDF files accessible.