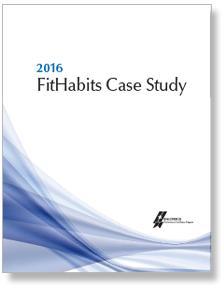 2016 FitHabits Case Study PDF
2016 FitHabits Feedback Report PDF
Baldrige Excellence Framework
Case study resources illustrate the Baldrige Award application and evaluation process. These resources include
a case study, which is a sample Baldrige Award application showing a fictitious organization's responses to the requirements of the Baldrige Excellence Framework
a feedback report modeled on the report received by actual Baldrige Award applicants; this feedback report is based on the scorebook produced by a team of Baldrige examiners who evaluated the fictitious application against the Criteria
Case studies show you the format and general content of a Baldrige Award application. However, because the primary purpose of the case study is to provide learning opportunities for Baldrige examiners and others, the case study purposely does not address all Criteria requirements or demonstrate role-model responses in all areas. See the case study scorebook and feedback report to learn how the fictitious organization scored and to see its strengths and opportunities for improvement.
Written by master examiners Nancy Jokovich and Pat Lapekas, the 2016 Baldrige case study depicts a fictitious, online, distributor of unique and high-end activewear clothing and athletic shoes that promotes a customized, high-touch shopping experience for its customers. Created by volunteer Baldrige alumni examiners, the fictitious FitHabits aims to compete in a niche, boutique market, selling exclusively on the Internet to fitness customers who want a customized, high-touch shopping experience (e.g., advice on products, ability to give input on future products) that they can't get from large Internet retailers and box stores. FitHabits uses the Baldrige Excellence Framework to guide its strategy, as well as its leadership and management systems. Like other organizations, FitHabits is challenged by emerging competitors and mergers, cybersecurity, an adequate profit margin, changing customer demands and expectations, and retention of skilled team members in a competitive market.
The FitHabits Case Study is based on the 2015–2016 Baldrige Excellence Framework.
Resources
Baldrige Materials Archive (Previous Case Study Packets)
Applying for the Award