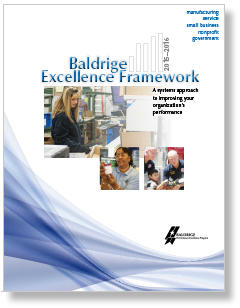 A Systems Approach to Improving Your Organization's Performance
Purchase your copy today.
This leadership and performance management framework empowers your organization to accomplish its mission, improve results, and become more competitive. The 2015–2016 Baldrige Excellence Framework booklet includes
the Criteria for Performance Excellence (covering critical aspects of achieving excellence throughout your organization),
core values and concepts (beliefs and behaviors found in high-performing organizations), and
guidelines for responding to the Criteria and evaluating and scoring processes and results.
---
Criteria Category and Item Overview
Learn about the Baldrige Excellence Framework and Criteria categories and items.

Framework Criteria Overview
(JPEG, EPS)
---
Explore Free Content
---
Getting Started
How Baldrige Works
Baldrige Excellence Builder: 2017–2018, 2015–2016
Self-Assessing Your Organization
Create an Organizational Profile
Baldrige Award
---
Resources
Purchase Baldrige Excellence Framework Business/Nonprofit, Education, Health Care
Self-Analysis Worksheet Word
Baldrige Excellence Builder
Baldrige Key Terms
Baldrige Improvement Tools
The Baldrige Criteria 101 Word
Related Links
How Baldrige Works
Baldrige Impacts
Self-Assessing Your Organization
Baldrige Products and Services
Baldrige Award
Baldrige Award Recipient Listing
Baldrige FAQs
---
You need to have Acrobat Reader installed on your computer to view the PDF file. If you do not have Acrobat Reader installed on your computer, download the program at http://get.adobe.com/reader. People with visual disabilities can download tools and information at http://www.adobe.com/accessibility to help make Adobe PDF files accessible.