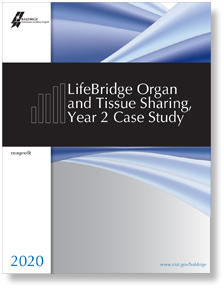 LifeBridge Organ and Tissue Sharing, Year 2 PDF
Feedback Report PDF
Case study resources illustrate the Baldrige Award application and evaluation processes. These resources include
a case study, which is a sample Baldrige Award application showing a fictitious organization's responses to the questions of the Baldrige Excellence Framework
a feedback report modeled on the report received by actual Baldrige Award applicants; this feedback report is based on the Consensus scorebook produced by a team of Baldrige examiners who evaluated the fictitious application against the Criteria
Case studies show you the format and general content of a Baldrige Award application. However, because the primary purpose of the case study is to provide learning opportunities for Baldrige examiners and others, the case study purposely does not address all Criteria questions or demonstrate role-model responses in all areas. See the case study scorebook and feedback report to learn how the fictitious organization scored and to see its strengths and opportunities for improvement.
Modified from a real Baldrige-based application, LifeBridge Organ and Tissue Sharing, Year 2, depicts an organization that has re-applied for the Baldrige Award. Master examiners Carlos Ayala, Maureen Baca, Steven Bonk, Alice Lewis, Marci Kenney, John Vinyard, and Eric Malloy reviewed the fictitious 2019 Baldrige Award feedback report and suggested updates for this 2020 case study. 
LifeBridge Organ and Tissue Sharing is dedicated to saving and improving lives through the coordination of organ and tissue donation. As a nonprofit organ procurement organization, it serves 3.2 million people within the fictitious states of North Takoma and South Takoma. 
In response to its 2019 Baldrige Award feedback report, the fictitious organization has updated many of its processes with improvement cycles; added marketing initiatives to educate and encourage people to register as donors, a Baldrige benchmarking project, new processes for innovation and workforce performance management, and community support projects; and created opportunities for more learning and succession planning within the organization.
The 2020 LifeBridge Organ and Tissue Sharing, Year 2 case study was reviewed by a team of Baldrige master examiners (Lori Kirkland, Kay Kendall, Bill Craddock, Jim McCorvey, Deb Manzo, Michael Reames, and Janet Johnson ) who evaluated the fictitious organization against the Criteria and created a consensus scorebook to be used for training.
LifeBridge Organ and Tissue Sharing, Year 2, is based on the 2019-2020 Baldrige Excellence Framework (Business/Nonprofit).
Resources
Baldrige Materials Archive (Previous Case Study Packets)
Applying for the Award