| Communication and Visibility | Events | Projects | Grants | Strategic Outreach and Engagement |
NICE eNewsletters

One Pagers
New

Updated

See all NICE One Pagers here.
ITL Science Day Poster
Multimedia
Interviews with NICE Summer Students 2018
Innovations in Cybersecurity Education, Training, and Workforce Development
See all NICE Multimedia here.
Exhibits and Displays
Federal IT and Cybersecurity Talent Summit
Nuclear Regulatory Commission (NRC) Security Career Day
USPS® Cybersecurity Awareness Fair
24 Hours for Better Cybersecurity Event Discussing Women in Cybersecurity
Workshop:  held November 28-29, 2018

Publication of Results:  Coming in 2019
NICE Webinars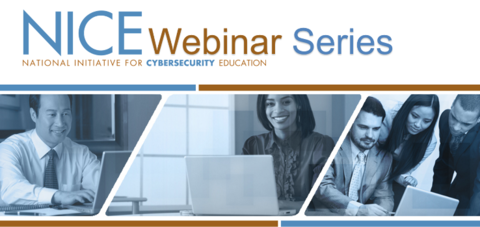 CyberSeek
NICE Challenge Project 
Finalized and released the remapping of all NICE Challenge content to the updated NICE Cybersecurity Workforce Framework and CAE Knowledge Units.

Major user interface overhauls to the submission review and reservation curator pages.

Several new challenges in the Protect and Defend category released.

Find out more about the NICE Challenge Project here 
Presentations
The table below reflects the previous month's presentations. For a list of all 2018 presentations please click here.
| | | | | |
| --- | --- | --- | --- | --- |
|  Presentation Title | Event | Location | Date | Presenter(s) |
| "NICE Overview" | Department of Commerce: Around the Bureaus Speaker Series | Washington, D.C. | 10/25/2018 | Rodney Petersen |
| "Cybersecurity Workforce" | National Governor's Association (NGA) Policy Academy on Implementing State Cybersecurity | Detroit, MI | 10/30/2018 | Rodney Petersen |
| "Pathways to establishing a Cybersecurity Pathway in Higher Ed" | Ohio CTE Cyber Conference | Dayton, OH | 11/2/2018 | Davina Pruitt-Mentle |
| "Cybersecurity Risk Management" | Commission on Institutional Infrastructure and Transformation of the American Association of Community Colleges (AACC) Fall Meeting | Washington, D.C. | 11/14/2018 | Rodney Petersen |
| "Federal Efforts to Develop a Robust Cybersecurity Workforce" | Association for Career an Technical Education (ACTE) Career Tech Vision Conference | San Antonio, TX | 11/30/2018 | Davina Pruitt-Mentle |
| "Growing and Sustaining the Cybersecurity Workforce" | Sustainable Cyber Workforce Summit | Winston-Salem, NC | 12/7/2018 | Rodney Petersen |
International
Briefings: Australia, Netherlands, Israel, Canada, Saudi Arabia
Presentations: Canada/New Brunswick, Israel
Seminar: International Perspectives on Cybersecurity Workforce Development
NICE Working Group
Full Working Group: 11 Monthly Meetings (January, February, March, April, May, June, July, August, September, October, December)
Subgroups
NICE Interagency Coordinating Council
Meetings: 10 Monthly Meetings (January, February, March, April, May, June, July, September, October, December)

For additional information please visit here