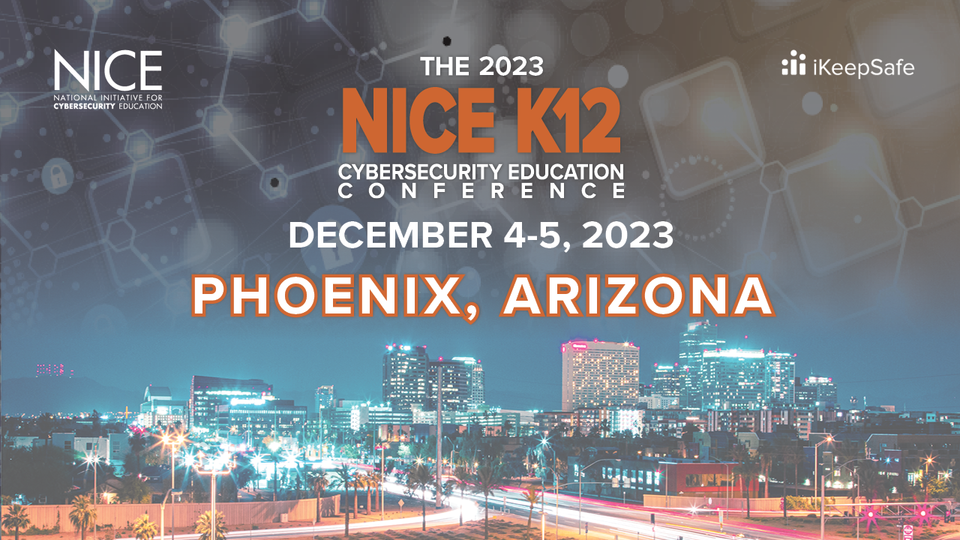 9th Annual NICE K12 CYBERSECURITY EDUCATION CONFERENCE
December 4-5, 2023
LOCATION: Phoenix, Arizona
The Annual NICE K12 Cybersecurity Education Conference, supported by the NICE, and hosted by iKeepSafe, brings together K12 educators and those interested in cybersecurity education for today's K12 youth in support of growing the cybersecurity workforce of the future. 
This annual two-day event helps attendees learn about increasing cybersecurity career awareness, infusing cybersecurity across the education portfolio, integrating innovative cybersecurity educational approaches, designing cybersecurity academic and career pathways, and promoting cyber awareness.
This event is supported by the NICE, a program of the National Institute of Standards and Technology in the U.S. Department of Commerce, under financial assistance award #70NANB20H144. Learn more here. 
---
Past NICE K12 Cybersecurity Education Conferences
2022 - St. Louis, Missouri 
2021 - Virtual
2020 - Virtual
2019 - Garden Grove, California
2018 - San Antonio, Texas
2017 - Nashville, Tennessee
2016 - Arlington, Virginia
2015 - Linthicum, Maryland