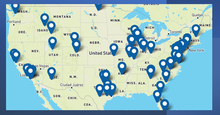 The NICE Cybersecurity Apprenticeship Program Finder is a tool to help locate cybersecurity apprenticeship programs throughout the United States. Apprenticeships provide learners with access to high quality career pathways aligned to the needs of employers. For cybersecurity, where there is a shortage of job-ready employees, apprenticeships can help provide a predictable pipeline of skilled cybersecurity talent.  Participants in apprenticeship programs receive paid work experience and work-based learning, classroom instruction, mentoring, and a nationally- or state-recognized credential upon completion of the program.
Programs listed in this finder may be registered with the U.S. Department of Labor's Office of Apprenticeship, State-level registrations, or may not yet be registered. Some programs may include youth apprenticeships and pre-apprenticeship training programs. The cybersecurity apprenticeship programs may include virtual training schemes, allowing participation from other locations. All programs include training and development for work roles in cybersecurity as described in the NICE Workforce Framework for Cybersecurity, NIST Special Publication 800-181, Revision 1.
If you are managing a cybersecurity apprenticeship program and would like your program to be included in this Program Finder, please complete the form found here. Please also consider joining the NICE Apprenticeships in Cybersecurity Community of Interest; more information may be found here.