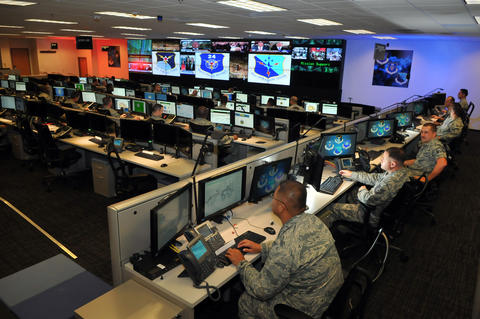 Commercial Products:
Commercial entities or materials may be identified in this web site or linked web sites. Such identification is not intended to imply recommendation or endorsement by NIST, nor is it intended to imply that the entities or materials are necessarily the best available for the purpose.
The appearance of U.S. Department of Defense (DoD) visual information does not imply or constitute DoD endorsement.
Military Veterans are an important community for consideration for cybersecurity jobs. Whether they have direct military experience with information security or possibly possess a highly desirable security clearance (or ability to qualify for a clearance), our nation's military veterans are increasingly recognized as an attractive talent candidate pool for our most critical cybersecurity roles. In fact, the combined response from the Department of Homeland Security (DHS) and the Department of Commerce to Executive Order 13800 included a specific recommendation regarding veterans, "… it is necessary to expand the pool of cybersecurity candidates through retraining and by increasing the participation of women, minorities, and veterans."
Career Preparation AND EDUCATIONAL OPTIONS
Career exploration:
Cyberseek.org, supported by NIST/NICE, is a website that visually depicts the cybersecurity job market. Determine which state or city has greatest demand for talent. Look at sample career pathways, job requirements, and salary information.
Unsure which area of cybersecurity interests you the most? The NICCS portal from DHS offers a comparison of the varied cybersecurity careers. 
This resource page also provides cybersecurity industry history and overview, along with veteran resources from University of North Dakota.
Browse these resources for cybersecurity students from University HQ or insight into one option for a pathway to becoming a cybersecurity analyst. 
The Cyber Center of Excellence (CCOE) Cyber Career Map is an interactive map of cyber education, trainings, certifications and career pathways. Users can chart personal paths to a cyber career with the exploration dashboard and zoom in for jobs, education, resources and much more.
The ICMA (International City/County Management Association) has prepared a guidebook for finding positions of all kinds for veterans within your local government.
LinkedIn offers unique benefits and features for active military, veterans and military spouses including a one-year free subscription to premium subscription.
The Complete Cybersecurity Career Guide for Veterans will explore the many cybersecurity resources available to veterans regarding skills and education, interview preparation, and job searches in the public and private sectors.
Looking for training?
If you are still in the military but planning for your transition to civilian life, you can begin preparing with online education. FedVTE is a Federal source of FREE online cybersecurity education courses.
CyberSkills2Work Program: Funded by the National Security Agency, the CyberSkills2Work Program is a national cybersecurity workforce development program that focuses on recruiting, preparing, and placing transitioning military, transitioning first responders, and veterans into cybersecurity work roles in our nation's Critical Infrastructure Sectors, focusing on financial services, defense industrial bases, and energy sectors.
CyberVetsUSA is an industry-led initiative that provides free online training, certification and employment opportunities to transitioning service members, veterans, National Guard and Reservists, and military spouses looking to enter the cyber workforce!  Offering the latest cyber courses and certifications from industry-leading tech companies, CyberVetsUSA is a skills-to-jobs pathway that aims to fast-track veterans into high-demand cyber careers.   
This special program for veterans from CBTNuggets includes six months of free training (including some select cybersecurity courses). Military personnel within 6 months of separation can request up to six months free access to the training library.
Georgia Cyber Center Workforces Program: Whether you are a veteran, transitioning service member, or military spouse, the Georgia Cyber Center Workforces Program is designed to help you as you embark into the next chapter of your life after the military.  The Workforces Program will work with individuals who meet these criteria to increase or refine skills in IT and cybersecurity with formal training and work-based learning programs to build resumes, enhance marketability, and prepare you for full-time employment in middle/high skilled occupations for life after the military.
Acronis SCSVets helps arm participants with the internationally-recognized credentials, skills, and resources they need to pursue self-sustaining cybersecurity careers.
FortiVet facilitates the transition of exceptional military veterans into the cybersecurity industry, providing professional networking, training, and mentoring.
VetSuccess Academy is an intensive, scholarship-based, accelerated training program that provides SANS world class training and GIAC certifications to quickly and effectively launch careers in cybersecurity.
The Booz Allen Hamilton Mil/Tech Workforce Initiative helps veterans find future-focused careers  (including cybersecurity) that offer job security and growth potential for years to come. Visit Mil/Tech Workforce Initiative for information on upcoming information sessions and to register for email updates.
For veterans and those within 180 days of transitioning, the VET TEC program provides tuition and stipends for housing while you are in the program with an approved training provider. More details on this page, including the types of high-tech careers you can train for.
Veterans Training Initiative from Florida International University:  The Gordon Institute, in partnership with 10 National Centers of Academic Excellence in Cybersecurity (CAE-C) institutions, was awarded a two-year, $6 million grant from the National Centers of Academic Excellence in Cybersecurity, which is part of the National Security Agency to establish a nationally scalable and sustainable cybersecurity workforce program. This program will work to recruit, prepare, and place transitioning military personnel, veterans, and first responders into cybersecurity work roles protecting our nation's Critical Infrastructure Sectors.
"What's Next" by Okta Learning is offering grants to displaced tech workers, including US military veterans and military spouses, to help them prepare and qualify for careers in identity and access management. See here for more details. 
Within 180 days of transitioning from the military?
The Department of Defense's SkillBridge program is designed for transitioning military to leverage their skills with industry work experience while they are still within their military program. Some SkillBridge programs are also available to veterans, although pay and benefit schemes will be different. Check with your local SkillBridge contact.
Considering completing a bachelor's degree or beyond?
Vet Success on Campus is a program for veterans transitioning to higher education. Each school has a counselor who helps veterans plan for education and employment.
National Centers of Academic Excellence (CAE) are 2- and 4-year institutions with a rigorous, accredited cybersecurity program and receive this designation from the National Security Agency and DHS. Find a CAE program in your community.
CyberCorps®: Scholarship for Service is a grant program from the National Science Foundation to eligible students (undergrad and graduate) at participating schools to receive up to three years of financial assistance in return for working in the federal, state, local or tribal government.
University HQ has also put together some information on how to earn a degree in cybersecurity. 
Preparing your job search
Access articles, tips and online tools to help military transitioners explore different career and post-secondary education options at gijobs.com. 
Write a civilian-focused career resumé. Use O*Net to match language used in military roles to the positions you are applying for or watch the NICE tutorial on resumé writing. Additionally, University of Massachusetts offers an infographic on how to translate your military skills and experience to civilian terms.
Translate your skills. My Next Move can help identify how a military person might describe that work. Here is an example for an Information Security Analyst with examples of titles from the military and how it translates to civilian life.
Prepare for interviews. Watch the NICE tutorial on interviewing techniques or read these tips on job interviews from Military.com. 
Create your LinkedIn profile (or other career sites). (Note: LinkedIn's premium service is provided for a limited time for active duty and transitioning military). 
Learn about veteran employment companies and information at Military.com (part of Monster.com). Military.com also has a Military Occupation Specialty (MOS) Skills Translator that maps to jobs.
Search for cybersecurity jobs. Cybercareers.gov provides resources for those seeking jobs in the Federal government. Visit the job seeker page to see a sample of open jobs. Silentprofessionals.org provides a list of vetted private security jobs. Search for jobs in the areas of  IT/Network, Technology, and more.
FEDERAL RESOURCES FOR VETERAN JOB SEEKERS
Department of Homeland Security Resources
Department of Homeland Security/NICCS Cybersecurity Education and Training Opportunities for Veterans
Department of Labor CareerOneStop Veteran and Military Transition Center
Department of Labor Veterans' Employment and Training Office (regional offices)
Department of Labor Veterans Apprenticeship information (for veterans and employers)
Office of Personnel Management CyberCareers.gov
Office of Personnel Management Federal Employment Information (Feds Hire Vets)
Veterans Affairs Careers and Employment Information 
Veterans Affairs Veteran's Opportunity to Work
NIST SP1500-16  'Improving Veteran Transitions to Civilian Cybersecurity Roles: Workshop Report' a written summary of a workshop held in 2017 with recommendations for government and industry to support military personnel with cybersecurity skills as they consider their future in the private sector.
Non-Profit Resources
P.A.V.E. (Paving Access for Veterans Employment) from Paralyzed Veterans of America's vocational rehabilitation and employment services program. Note - the employment program is not just for disabled veterans.
VeteranSec a community of over 3,300 veterans working in or transitioning into cybersecurity. They offer mentoring, a job board, training, and workshops.