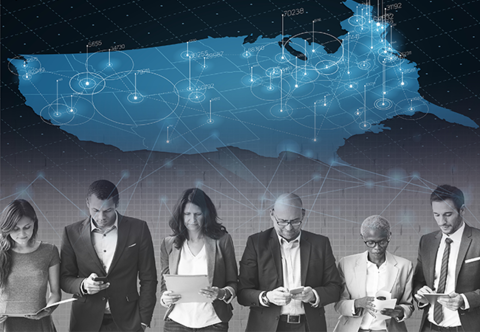 MIAMI—Employer demand for cybersecurity professionals across the United States continues to accelerate, according to new data published today on CyberSeek™, a free online resource from the U.S. Department of Commerce's National Institute of Standards and Technology (NIST), Burning Glass and CompTIA.
U.S. employers in the private and public sectors posted an estimated 313,735 job openings for cybersecurity workers between September 2017 and August 2018. That's in addition to the 715,000-plus cybersecurity workers currently employed around the country.
The new figures from CyberSeek were announced today at the National Initiative for Cybersecurity Education (NICE) Conference in Miami. The NICE program, led by NIST, is a partnership between government, academia and the private sector focused on cybersecurity education, training and workforce development. CyberSeek was created by CompTIA, an IT industry association, and Burning Glass Technologies, an analytics software company, through a grant awarded by NIST in 2015.
The new CyberSeek data show that cybersecurity workers are in particular demand, even as job openings outpace job seekers in the U.S. Across all occupations, there are currently 5.8 employed workers for every job opening. Within the cybersecurity field, the ratio of existing cybersecurity workers to the number of cybersecurity job openings is 2-to-3. That means employers have fewer trained cybersecurity workers in the labor force to choose from and must look to other tactics—including retraining current workers or attracting and training new talent—to fill their needs for cybersecurity professionals.  
CyberSeek is aligned with NIST's NICE Cybersecurity Workforce Framework, which categorizes and describes cybersecurity work and helps CyberSeek provide clear data on which job roles are most in demand. The latest CyberSeek update reveals that positions in Operate and Maintain (207,190 openings), Securely Provision (186,864), Protect and Defend (129,716), and Analyze (124,389) are the most sought after by employers.
Among specific core jobs, the top five by employer demand are cybersecurity engineer, cybersecurity analyst, cybersecurity manager/administrator, cybersecurity consultant and penetration and vulnerability tester.
The Washington, D.C., metropolitan area has the largest number of job openings for cybersecurity professionals (44,058). Rounding out the top five metro areas are New York City (20,243), Dallas (12,062), Chicago (11,201) and Los Angeles (10,589).
CyberSeek Career Resources
Beyond the comprehensive supply-and-demand data, CyberSeek also features an interactive career pathway showing key jobs within cybersecurity, common transition opportunities between them and detailed information about the salaries, credentials and skillsets associated with each role.
For example, average salaries for core cybersecurity jobs range from $75,000 for a cybersecurity specialist/technician to $129,000 for a cybersecurity architect.  
CyberSeek provides content to help local employers, educators, guidance and career counselors, students, current workers, policy makers and other stakeholders build and maintain the U.S. cybersecurity workforce. Visit https://www.cyberseek.org/.
NIST promotes U.S. innovation and industrial competitiveness by advancing measurement science, standards and technology in ways that enhance economic security and improve our quality of life. NIST is a non-regulatory agency of the U.S. Department of Commerce. To learn more about NIST, visit www.nist.gov.