| Communication and Visibility | Events | Publications | Projects | Grants | Strategic Outreach and Engagement | 
NICE eNewsletters

Launch of New NICE Website
In the Spring of 2017, the NICE Program Office updated and refreshed the NICE Website to better meet the needs of the NICE Community and visitors. The new website design features changes to site navigation and increased visibility to NICE news and events on both desktop and mobile devices.
One Pagers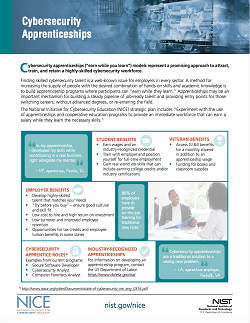 New
Updated
See all NICE One Pagers here.
ITL Science Day Posters
Social Media
Multimedia Presence
In 2017 a multimedia page was added to the NICE website to archives videos, audio interviews, and other recordings that are sponsored by the NICE Program Office or feature NICE Program Office Staff as speakers.
See all NICE Multimedia here.
Exhibits and Displays
30th Annual Federal Information Systems Security Educators Conference 
Veterans in Cybersecurity Workforce Workshop
Workshop:  held March 21, 2017
Publication of Results:  Coming in 2018
National Cyber Summit in Huntsville - Education and Workforce Track

2017 NICE Annual Conference & Expo
2017 National Cybersecurity Career Awareness Week
2017 NICE K12 Cybersecurity Education Conference
NICE Webinars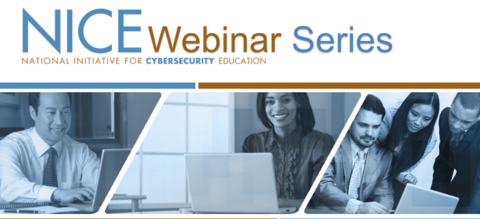 Publication of the NICE Cybersecurity Workforce Framework (NIST SP 800-181)
Publication of the NIST Interagency Report on NICE Framework Work Role Capability Indicators
CyberSeek
Updates:  August and November
Enhancements:  Widget, Public and Private Sector Jobs, Feeder Jobs
Find out more about CyberSeek here.
NICE Challenge Project

Enhancements: overhaul of the web platform user interface and re-design of deployment processes, now over 70 unique challenges available.
Kick off of "Curator Crash Course" webinars which cover everything a new curator would need to know to get started using the NICE Challenges.
Kick off of "Meet the NICE Challenges" webinars which cover two challenges in depth each month.
Find out more about the NICE Challenge Project here. 
NICE RAMPS Communities
Site Visits:  Albany, NY; Norfolk, VA; Phoenix, AZ; Dayton,OH
Accomplishments: partnerships with over 170 organizations, multiple summer camps provided, curriculum development and course development, articulation agreements, and the establishment of local internships and apprenticeships. 
Find out more about RAMPS here.
Notice of Funding Opportunity: Cybersecurity Education and Workforce Development Stakeholder Engagement Program