Submitting a Help Desk ticket v. contacting funding agency
Some situations may be addressable by NIST programmers or NIST staff. Others may require input from your Funding Agency. The helpdesk or Funding Agency may route your question to a different party, but first identifying the correct party can help reach a quicker resolution.  
You should submit a Help Desk ticket if:
You have experienced a bug or problem within the iEdison system
You are unable to complete an activity within the system because you are being redirected to a page that says "error" (such as Error 400)
You are having problems logging into iEdison
You are unsure how to complete an action within iEdison (NOTE: it is recommended that you first refer to your user guide and help resources before submitting a Help Desk ticket)
You have a general question about Bayh-Dole Requirements (NOTE: NIST representatives may or may not be able to answer your question. They may suggest you reach out to the funding agency depending on the specifics of your question)
You should contact your funding agency if:
You have a question regarding why a document or a request was rejected
You have a question regarding that Agency's interpretation of a regulatory requirement
You seek to appeal a determination or decision under 401.4 or 401.11
You have a question about how to handle a unique situation specific to a particular invention or patent
To submit a helpdesk ticket, complete the following steps:
Click the "iEdison Inquiry Form" under the Settings Menu on the top right corner of your iEdison screen or "Submit an iEdison Help Ticket" link on the iEdison homepage.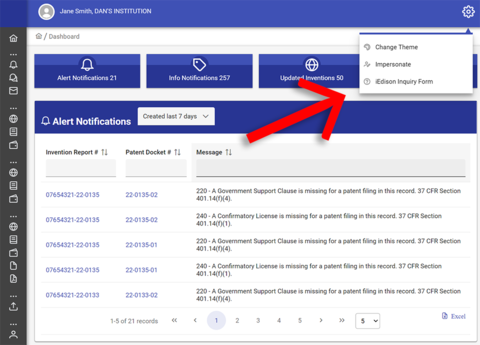 NOTE:  If you cannot access, the iEdison system, you can also find the Helpdesk Request form by clicking the "Submit a Help Desk Request" link on the iEdison homepage
Fields with an asterisk(*) are required:
First Name*
Last Name*
Organization*
Phone
Email*
Type of Inquiry*
Description*
You may upload a screenshot to help the support team better understand your issue.
To submit your request, you must check the Disclaimer box accepting the terms and conditions, and you must also check the reCAPTCHA box for security purposes.
Once you click the "Submit" button, you will receive an email confirming the ticket has been received. The support team will review the issue and contact you with a resolution or a request for additional information.