At some point, you may want/need to move a Patent Report from one Invention Report to another Invention Report also reported by your organization. Perhaps you accidentally entered the Patent Report under the wrong Invention Report or maybe you are trying to link the Invention Report as a Child Invention and you need to move all of the patents over to the Parent Invention (as required). You are allowed to move a Patent Report(s) from one Invention Report to another so long as both Invention Reports are under your organization. If you want to move a Patent Report to an Invention Report under a different organization, you should submit a Patent Transfer Request. For instructions on submitting this request, see Submitting Patent Transfer Requests.
NOTE: If you are moving a Patent Report with an accepted Confirmatory License and/or Government Support Clause to a new Invention Report with funding that is different from the previous Invention Report, you will be required to re-submit updated CLs and GSCs to reflect the funding under the new Invention Report.
To move your patent to another invention within your organization, complete the following steps:
Method 1
From the Action button: Open the Patent Report, click the Action button and select "Move to Another Invention."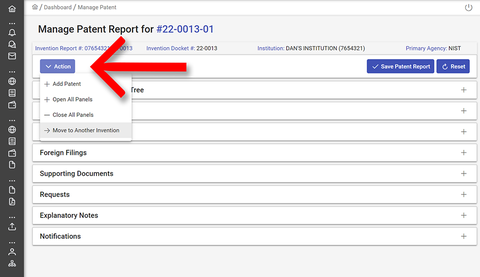 Method 2
From the Utilization Tree: From either the Patent Report or the parent Invention Report, right-click or control-click the patent in the Utilization Tree and select "Move to Another invention."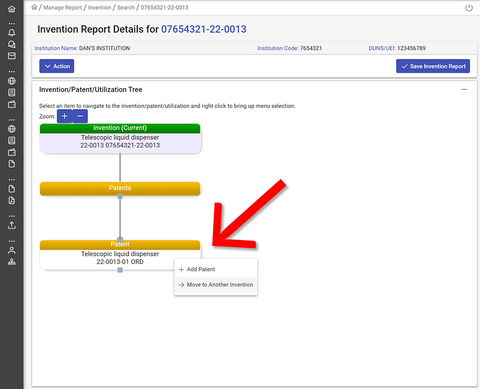 After you select "Move to Another Invention" using either method, a popup window will open. Enter the Invention Report number you wish to transfer the patent to.
Once you click the "Save" button, the patent will be transferred to the specified invention.