To generate Standard Reports, complete the following steps:
The "Standard Reports" link is located under the "Generate Report" section of the sidebar.
Report types include:
Activity Report is designed to summarize activities performed by an organization within a specified date range. This report includes totals and information from Invention, Patent, and Utilization Reports as well as Notifications.
Summary Report is generated to list all notifications for an organization. The report will include information from Invention, Patent, and Utilization records. Users will be able to select a date range for which to generate a report.
Grant Report is generated to list all Invention and Patent Reports associated with a particular grant or contract number.
Invention Compliance Report lists and indicates completion of certain Bayh-Dole requirements. This report is not an affirmative statement from the agency that the regarding compliance but can aid in determining whether and when certain activities were completed or reported for a subject invention.
Upcoming Dates Report is used to list out upcoming due dates for tasks related to Inventions, Patents, and Utilization records for an organization.
Notification Summary Report is designed to compile a list of all notifications (Actionable and Informational) for an organization on a specified date.
FOIA Report lists Discussions from Invention Reports based on specified criteria.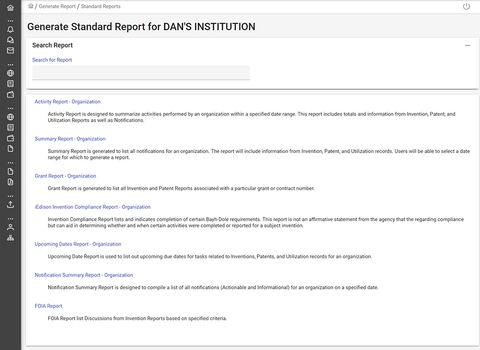 Each report type will require different parameters, but most will need a date, date range, or Invention Report number. FOIA Reports will allow you to enter additional information, such as the Grant Number, Inventor Name, and Funding Agency.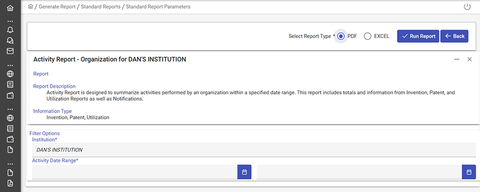 At the top of the Standard Report Parameters page, you may select either a PDF or Excel file as the report output format.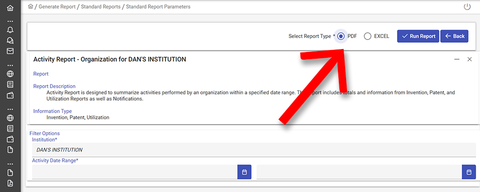 After making your output selection, click the "Run Report" button. The file will download to your local hard drive.