The following steps are required to review Invention Disclosures:
To review an invention disclosure, open the Invention Report Details Page and navigate to "Supporting Documents."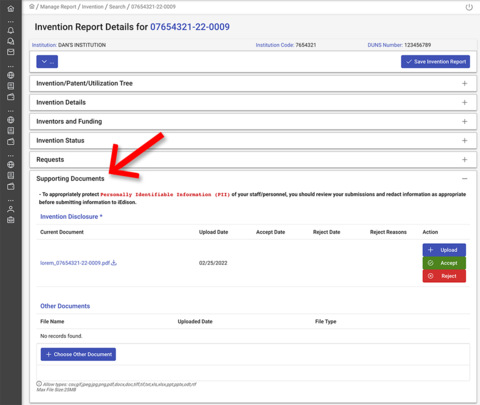 The uploaded invention disclosure will appear under the "Current Document" column. Click on the document title to review the disclosure in a new window.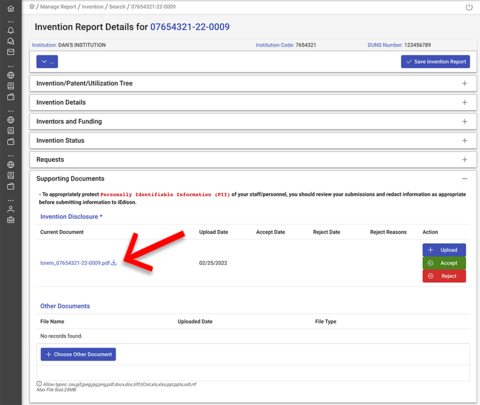 HOW TO REVIEW AN INVENTION DISCLOSURE
Each agency may have their own process for reviewing invention disclosures. However, the information in the disclosure uploaded should match (or reasonably match) the iEdison record and meet regulatory requirements. Pursuant to the regulations (37 CFR 401.14(c)(1)), the disclosure must include:
Award number(s)
Inventor(s)
Description of invention ("sufficiently complete in technical detail to convey a clear understanding to the extent known at the time of the disclosure, of the nature, purpose, operation, and the physical, chemical, biological or electrical characteristics of the invention")
Whether the invention has been identified in a publication, on sale, or public use

If this has been published, the "Date of First Publication/Sale/Public Use" field within iEdison

Whether a manuscript describing the invention has been submitted for publication

If so, whether it has been accepted for publication at time of disclosure
If the invention disclosure satisfies all requirements, click the "Accept" button. The current date will auto-populate. Click the "Save Invention Report" button at the top of the window to save the report.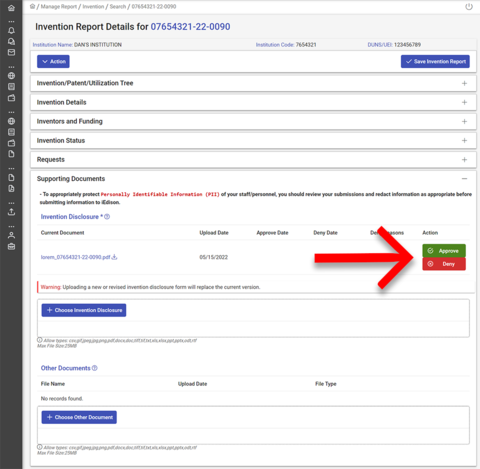 If the invention disclosure fails to meet any one of the requirements, click the "Reject" button. A popup window will require you to select the reason(s) for the rejection. (A list of reasons for rejection with explanations are provided in the next section.)
It's recommended you also include a written explanation in the "Comments" box so the organization fully understands how to remedy the issue.
Once the reason(s) has been selected and comments have been added, click the "Reject" button. Click the "Save Invention Report" button at the top of the window to save the report. At least one reason for the rejection must be checked for the report to be saved.
When an invention disclosure is rejected, the organization will receive a notification indicating the rejection and requiring them to correct the file or record accordingly.
Rejection reasons:
| | |
| --- | --- |
| Reason | Description |
| Invention Docket Number does not match. | The invention docket number in iEdison differs from the number in the disclosure. |
| Invention Docket or other identifying number is missing. | There is no invention docket number in the disclosure. |
| Invention Title is missing. | There is no invention title in the disclosure. |
| Invention Title does not match. | The invention title in iEdison differs from the invention title listed in the disclosure. |
| Inventor missing from document. | One or more inventors is/are listed in iEdison, but are missing in the disclosure. |
| Inventor listed within the document does not match. | One or more inventor(s) listed in iEdison differ(s) from the inventor(s) listed in the disclosure. |
| All inventors are not listed within the document submitted. | There are inventors listed in iEdison that are not listed in the disclosure. |
| Grant Number(s) is missing. | One or more grant or contract number(s) is/are missing in the disclosure. |
| Grant Number(s) do not match. | The grant or contract number(s) listed in iEdison differ(s) from the grant or contract number(s) listed in the disclosure. |
| The Invention Description needs to be more detailed. The description submitted does not satisfy CFR 37 Sec.401.14(c)(1). | The description provided in the disclosure does not provide sufficient detail of the subject invention to "convey a clear understanding . . . of the nature, purpose, operation, and the physical, chemical, biological or electrical characteristics of the invention." Additional descriptive information is needed. |
| Document submitted is not an Invention Disclosure. | The user uploaded the wrong document. |
| Document submitted is a disclosure pertaining to a different invention. | The user uploaded a disclosure for another invention. |
| The document submitted references a past public disclosure, but the date of first publication, sale, or public use has not been populated. | A reported date of first publication, sale, or public use in the invention disclosure has not been entered into the iEdison record.  |
| Other. | List the reason for the rejection in the "Comments" field. |