View the eNewsletter Series and Subscribe 
welcome
Happy Cybersecurity Awareness Month! My name is Caron Carlson, and I recently joined NICE as a full-fledged member after working with the team for 2 ½ years as an associate. As we round out the busy month of October, I hope you had a chance to celebrate Cybersecurity Career Awareness Week, cheer on the new US Cyber Games draftees, and discover new ways that the many components of this ecosystem fortify and enhance each other. As I integrate more fully into the program, my main focus will be on the NICE Framework. There are numerous updates and revisions in the works – including re-factored knowledge, skill, and ability statements; improved task statements; and competency areas – and we always want to hear from you about your experiences with the Framework. 
Our feature article this quarter makes the case for employers to embrace competencies-based learning when assessing candidates and making hiring decisions. Focusing on a student's or job candidate's competencies and skills – rather than degrees, for example – is not only more objective and equitable but also more efficient in determining successful career pathways. The Academic Spotlight describes a new partnership between the Defense Information Systems Agency and Capital Technology University to build a career pathway that provides opportunities for developing the necessary skills and competencies. Our Industry Spotlight highlights the critical need for software developers to focus on security earlier in the development process—known as "shifting left."  Finally, the Government Spotlight examines the CHIPS and Science Act of 2022 and its implications for workforce development. 
Enjoy these timely insights from around the community, and don't forget to register for the NICE K12 Education Conference in St. Louis, MO, December 5-6. I hope to see you there!
Caron Carlson
FEATURED ARTICLE 
Why Employers Should Embrace Competency-Based Learning in Cybersecurity
By Marni Baker-Stein, Provost and Chief Academic Officer, Western Governors University; Bridgett Paradise, Chief People and Culture Officer, Tenable; and Rodney Petersen, Director of NICE, NIST
There is a growing movement toward increasing the use of competency and skills-based education and hiring practices in both the public and private sectors. For example, the Executive Order on Modernizing and Reforming the Assessment and Hiring of Federal Job Candidates calls upon the Federal Government to "ensure that the individuals most capable of performing the roles and responsibilities required of a specific position are those hired for that position"—resulting in "merit-based reforms that will replace degree-based hiring with skills- and competency-based hiring." 
Framework in Focus
A profile of a cybersecurity practitioner to illustrate application of the NICE Framework.
Connie Bragg, Professional - Cybersecurity
This issue's interview is with Connie Bragg, Professional -Cybersecurity at AT&T. Ms. Bragg shares about how advocating for yourself can help when shifting careers into cybersecurity, how important networking and mentoring can be, and how the NICE Framework can help. 
Organization: AT&T
NICE Framework Categories: Securely Provision, Operate & Maintain, Oversee & Govern
NICE Framework Work Roles: Cyber Workforce Developer and Manager, Security Architect, Security Control Assessor
Academic Degrees:  BA, Women's Studies; MPA Public Administration
Certifications: Cybersecurity, Azure Fundamentals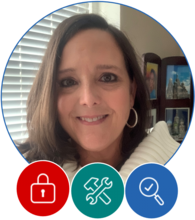 SPOTLIGHT ARTICLES
AFFILIATED PROGRAMS UPDATE
Various organizations within the U.S. government own and operate programs designed to enhance the cybersecurity education, training, and workforce development needs of the nation. The following are a few of those programs with updates on their activities:  
---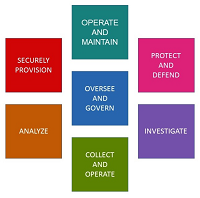 The Workforce Framework for Cybersecurity (NICE Framework)
On August 2, 2022 the NICE Program Office submitted the report "Measuring Cybersecurity Workforce Capabilities: Defining a Proficiency Scale for the NICE Framework" to Congress. The report discusses proficiency levels broadly to provide overall context and clarity, points to various extant models, summarizes findings regarding existing efforts to assess proficiency in the workforces of both the public and private sector, and provides recommendations for effective methods for measuring the cybersecurity proficiency of learners. Read the report here. 
Learn more: NICE Framework Resource Center
---
Recent NICE Webinars
Preparing for Careers in Cybersecurity and Privacy with Internships
October 19, 2022
During this engaging panel discussion in recognition of Cybersecurity Career Awareness Week and Cybersecurity Awareness Month, attendees heard from participants who have gained valuable hands-on experiences through work-based learning experiences at the National Institute of Standards and Technology (NIST) and the National Cybersecurity Center of Excellence (NCCoE). Speakers described the types of projects they worked on, what internship program they were a part of, where they are now, and how they think this experience contributed to their preparations for a rewarding career in cybersecurity or privacy. Learn more and view a recording here.
Overcoming the Entry-Level Job in Cybersecurity Conundrum
September 21, 2022
Many headlines capture the crisis as a "cybersecurity skills shortage" or "talent gap".  However, the urgent challenge in front of us is to create better pathways for career-entry into cybersecurity.  The NICE Strategic Plan includes the objective to "promote the establishment of more entry-level positions that provide avenues for growth and advancement."  This webinar highlighted the imperative to change employers' mindsets, modernize the recruitment and hiring process, update job announcements and position descriptions to align qualification requirements to the NICE Workforce Framework for Cybersecurity, and increase opportunities for Americans to choose a career in cybersecurity. Learn more and view a recording here.
Learn more: NICE Webinars

CyberSeek
CyberSeek is a free online tool that can help career seekers learn more about cybersecurity. The interactive map shows a snapshot of open jobs across the United States. Additionally, the career pathway provides insight on the progression of a cybersecurity career. You can learn about common job titles, average salaries, commonly requested credentials, and more!
Updates were made to CyberSeek on October 17, 2022. The new data reveals that for the 12-month period ending in September 2022, employers listed 769,736 openings for cybersecurity positions or jobs requiring cybersecurity skills.
Learn more about these updates in the official press release.
Learn more: CyberSeek
---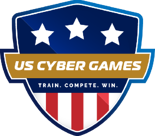 US Cyber Games
On October 17, 2022, the US Cyber Team Draft Day was held in Washington, DC. The program announced the 30 athletes who will join the Season II US Cyber Team. The event also featured exhibits to provide information about careers in cybersecurity and showcase cybersecurity games.
Learn more: US Cyber Games
NICE COMMUNITY COORDINATING COUNCIL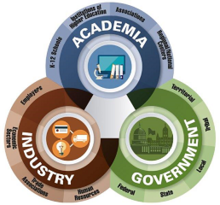 In support of Cybersecurity Career Awareness Week (October 17-22, 2022), several groups in the Community held special events to help raise awareness about cybersecurity careers. 
Learn more and join the NICE Community Coordinating Council today!
Key Dates
November 14, 2022
NICE Webinar: Using Registered Apprenticeships to Source Mid-Career Roles in Cybersecurity
Many of us consider Registered Apprenticeship as a method to help prepare talent to enter a career with no previous experience. It's remarkable to learn that they are a training model appropriate to use at any stage in a career pathway. A mid-career Registered Apprenticeship program can help leverage  an employee's existing knowledge and lived experiences while they gain new skills or a transition into a new field of work. This webinar, held during National Apprenticeship Week, will feature employers who are using Registered Apprenticeships to address hard-to-find skill needs and help employees advance in their careers.
Learn more about the NICE Webinar Series here. 
---
FISSEA Fall Forum
The FISSEA Forums are quarterly meetings to provide opportunities for policy and programmatic updates, the exchange of best practices, and discussion and engagement among members of the Federal Information Security Educators (FISSEA) community.
Register today for the Fall Forum where speakers will be focusing on "Role-Based Training" and the Security Awareness and Training Contest award winners will be announced. 
Learn more here.
---
NICE K12 Cybersecurity Education Conference
REGISTER TODAY!
"Expanding the Gateway to the Cybersecurity Workforce of the Future."
The 8th annual NICE K12 Cybersecurity Education Conference will take place on December 5-6, 2022, in St. Louis, Missouri. 
iKeepSafe has announced 2022 keynote speakers. We will hear from Susan Warner serves as Vice President, Talent and Community Engagement for Mastercard, responsible for talent engagement, global employee volunteerism and global disaster response. Arica Wells, 2022 Graduate at Spotsylvania High School, who is currently enrolled as a freshmen at Old Dominion University, where she is studying for her undergraduate degree in Cyber Operations. As a founding member of the Spotsylvania Cyber Knights, Arica was active in many capture the flag competitions, including Girls Go CyberStart, CyberStart America, and Radford University's RUSecure. Lasty, we will hear from Bastian Freund, Special Agent, Cellular Analysis Survey Team (CAST) at the FBI in St. Louis. Bastian Freund has been a Special Agent for the FBI for approximately 19 years, working on Violent Crimes.
Registration for the Conference and pre-conference workshops is available now!
Learn more about the NICE K12 Cybersecurity Conference and register here.
This event is supported by the National Initiative for Cybersecurity Education (NICE), a program of the National Institute of Standards and Technology in the U.S. Department of Commerce, under financial assistance award #70NANB20H144
---
2023 NICE Conference and Expo
SUBMIT A SPEAKER PROPOSAL!
NICE Conference & Expo will take place June 5-7, 2022 at the Westin Seattle in Seattle, WA.
The NICE Conference & Expo Planning Committee is now accepting speaker proposals for the annual NICE Conference taking place in Seattle, WA on June 5-7, 2023. This year's theme, "Resetting Expectations: Creating Accessible Cybersecurity Career Pathways," inspires presentations that reimagine what it takes to be a cybersecurity professional. By resetting expectations, cybersecurity will be an accessible career path through various, nontraditional avenues, regardless of academic, demographic, socio-economic, geographic, or professional background.
Conference Topics:
Building Thruways: Linking Education and Employment
This topic addresses ideas such as work preparation in college courses, internships and externships, competitions, ranges and other extra-curricula opportunities, evidencing competency, curriculum development, and alignment of learning objectives to workplace needs.
Currency Conversion (or exchange): Evaluating Credentials and Assessing Existing Talent
This topic addresses ideas such as up-skilling and re-skilling within existing workforces, hiring practices, training and development of existing workforce, credentials, and recognizing the value of non-traditional career routes. 
Maintaining Equilibrium: Work-Life Balance, Mental Health, and the Workplace
This topic addresses ideas such as expectations on professionals and professionalism, work-life balance, burnout, mental health, technostress and workplace culture.
Knocking Down Barriers: Identifying and Assessing Accessibility Challenges and Proposing Solutions
This topic addresses ideas such as neurodiversity and other disabilities, race, gender, and socio-economic diversity, with a specific focus on under-served and under-represented communities. 
Improving the Infrastructure
This topic addresses ideas such as the physical space, teacher and faculty shortage, pathways for exchanging educational leadership and talent, collaboration between industry, academia, and the government, and lessons from cybersecurity leaders. 
Learn more about the NICE Conference and Expo and submit your proposal here.
This event is supported by the National Initiative for Cybersecurity Education (NICE), a program of the National Institute of Standards and Technology in the U.S. Department of Commerce, under financial assistance award #70NANB18H025.
---
January 24, 2023
Federal Cybersecurity Workforce Webinar
On January 24, 2023, NICE and OPM will host a webinar focused on Providing Timely and Clear Data to Support Federal Cybersecurity Workforce Needs. Register today!
Learn more about the Federal Cybersecurity Workforce Summit and Webinar series here.