Establishing a Cybersecurity Career Pathway for the Next Generation of DOD Employees
By William H. Butler DSc, Vice President of Academic Affairs, Capitol Technology University
The need for cybersecurity workers is well established, but this requirement is not only for industry; the government has an equally pressing gap between openings and qualified workers.  Many agencies have missions to protect critical infrastructure, and they must collaborate with industry to create academic pipelines while also competing to attract graduates as they enter the job market. One way to establish a stronger pipeline is to provide the opportunity for students to work with cutting-edge tools in such a way that they also learn about the exciting mission space they support.
The Defense Information Systems Agency (DISA,) headquartered at Fort Meade, MD., serves as the Combat Support Agency of the Department of Defense, conducts DOD Information Network (DODIN) operations for the joint warfighters and provides information sharing capabilities across the full spectrum of military operations. DISA has a growing need for skilled employees who can meet the needs of DISA and possess a wide range of engineering, computer science, and IT knowledge necessary to operate and maintain DOD information systems.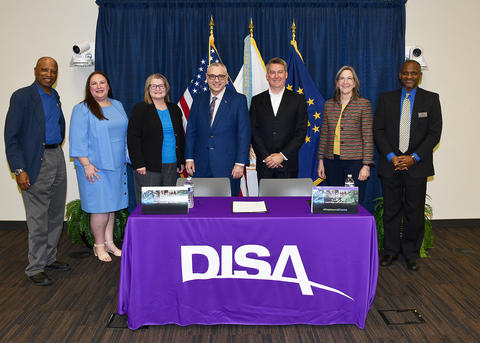 To address these challenges, the Office of Strategic Outreach and Talent Acquisition at DISA was charged with establishing a talent pipeline of diverse, high-caliber candidates to serve as the cybersecurity workforce. After months of careful planning, DISA signed a historic Education Partnership Agreement (EPA) with Capitol Technology University (Capitol Tech). This agreement enables DISA to connect and collaborate with Capitol Tech students pursuing Science, Technology, Engineering, and Mathematics fields of study, as well as with those committed to public service, warfighter communications, and national defense. Both undergraduate and graduate students are eligible to participate in this special program with DISA.
The career pathway marks the beginning of what will be a mutually beneficial relationship for DISA and the university. Capitol Tech students will gain access to a plethora of state-of-the-art tools and equipment relevant to the assessment, development, operations, and sustainment of the Department of Defense (DOD), and in return, Capitol will provide DISA with leads for high-quality candidates for internships and jobs.
Capitol Tech is proud to be the first educational institution to sign an EPA with DISA. This pathway agreement provides Capitol students with valuable internship and mentorship opportunities with expert DISA scientists, as well as rewarding career possibilities within the agency. DISA supplements Capitol Tech's curriculum with the skills and knowledge to make them successful contributors as the next generation of DOD employees. Research opportunities relevant to DISA's needs are also built into the academic program.
Dr. Sims, Capitol Tech President, and DISA's director, Steve Wallace, envision that this pathway will increase student interest in DOD technologies, the advanced laboratory training of future employees, and engagement in government research and development in the areas of information technology, cybersecurity, engineering, and finance.
This partnership builds upon other successful career pathways to rewarding government and private-sector careers offered by Capitol Tech. The school is among the top universities for a 30-year return on investment of college tuition and offers degrees in cybersecurity, computer science, and engineering. Additionally, Capitol Tech offers two one-of-kind post-graduation employment promises to lead all graduates to successful and lucrative careers: a $50,000 starting salary guarantee, and a loan repayment assistant program for those unable to promptly find employment after graduation. To date, 82% of the students had a job offer or chose to go on to graduate school within 90 days of commencement.
Individuals are attracted to government work because of opportunities for leadership, job security and superior benefits. In many respects, working for the federal government is a trade-off. Government employees often have unique roles that can't be filled by contractors including decision making opportunities and having both meaningful and reliable service to their country while providing a good living for their family. These opportunities and job security are trade-offs that some choose rather than the pursuit of a higher salary that may be offered by industry. This partnership establishes a Cybersecurity Career Pathway for the next generation of DOD employees and highlights DISA opportunities that are often overlooked by job seekers.