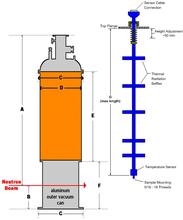 The HFBS Orange Cryostat was specifically designed for use on the HFBS instrument at the NCNR. It has a modified tail set that fits into the HFBS pit and a modified body that has a large flange to support its weight. There is only one HFBS cryostat available and it has a 50mm sample well diameter.
Useful Dimensions (approximate)
System
HFBS
A
1304
B
152
C
400
D
380
E
910
F
310
G
1265
Other Capabilities
The capabilities stated so far have been for operation in the standard setup. When using a special setup these capabilities may change, however, many special setups have been used with success. Some of these include: gas handling, transport measurements, high pressure, etc. Any special setups should be discussed with the sample environment staff before being scheduled.
More Information: