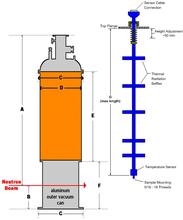 The 100mm Orange Cryostat was originally designed for use on the now decommissioned FCS instrument. This design included a 180o cadmium shield which has been removed to make the cryostat useful on a wider range of instruments. There is only one 100mm cryostat available at the NCNR and it is normally used to accommodate large samples or special setups.
Useful Dimensions (approximate)
System
100mm
A
1192.5
B
152
C
431
D
395
E
800
F
355
G
1096
Other Capabilities
The capabilities stated so far have been for operation in the standard setup. When using a special setup these capabilities may change, however, many special setups have been used with success. Some of these include: gas handling, transport measurements, high pressure, etc. Any special setups should be discussed with the sample environment staff before being scheduled.
More Information: