This is the general use furnace that is available for use on all instruments except HFBS and BT4. It is made up of a water cooled aluminum outer vacuum can containing a niobium resistive heating element surrounded by niobium heat shields. The sample is top loaded on a stick, but the furnace must be brought to room temperature for sample changing. The sample stick has a threaded stud for sample can mounting. Use of this system requires the assistance of a sample environment team member.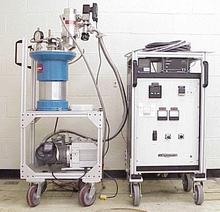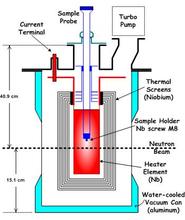 Sample Geometry
Sample Holder
Top Loading Stick with Male M8 Thread
Sample Access In Plane
350o
Sample Access Out of Plane
+20o
Maximum Sample Diameter
4.2cm (1.65 in)
Maximum Sample Height
12cm (4.72 in)
Sample Preparation
Safety Issues
Experiment Planning
More Information:
Sample Holders: The sample probe terminates in a threaded M8-1.25 stud. A user designed (NIST assistance is available) holder compatible with our probe is required. Ventilated (i.e. non-pressure building) crucible-type holders made of niobium or platinum are recommended. Any sealed sample holder must be tested off-line at the maximum desired temperature before loading into the furnace to ensure that an over-pressure burst will not occur on the beam line.
Sample Geometry:

Note that the beam center is 40.9cm below the top of the sample well, and the probe height is adjustable to accommodate a wide range of sample sizes.
Your probe/sample length must be adjusted so that it DOES NOT TOUCH THE HEATING ELEMENT OR THE BOTTOM OF THE SAMPLE WELL

The furnace must be operated under high vacuum (less than 10-4 Torr).
KNOW YOUR SAMPLE!! Users must verify that their sample will maintain low vapor pressure (< 10-5 Torr) and not react with its surroundings at high temperature; since the heating element along with all of the heat shields in the furnace are made of niobium (refractory material that readily oxidizes at temperatures above 150 degrees Celsius).
The furnace requires high vacuum and proper water flow for safe operation. There are two safety interlock systems: One is for over-temperature and is controlled by the small temperature reader on the upper right of the control unit. The vacuum gauge and the water-flow switch share the other. The furnace will not operate if either of these interlocks is not functioning.
Set appropriate current limits. If using the manual ramping, do not jolt the furnace with high current spikes. Slowly increment the output limit setting and/or ramp your setpoint for smooth operation.

Note that this is a high temperature furnace that performs best at higher temperature.
Plan ahead. At most it will take 2 hours for the sample to reach 1600oC.
Leave time at the end of the experiment to allow the sample cell to cool in order to remove the sample stick.
Design the experiment with proper sample mounting and ultimate sample temperature requirements in mind.