Instead of mounting your sample directly to the cold head you use a sample stick in this type of CCRs. The cold head is physically isolated from the sample well, but they are thermally linked with copper bands. This allows for sample changes with the system still running and cold just like an orange cryostat. At low temperatures control is done similarly to an orange cryostat with a heater on the wall of the sample well and helium exchange gas inside the well surrounding the stick. At high temperatures the sample well is evacuated. The heater on the sample stick and high temperature sensors are used.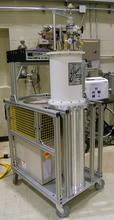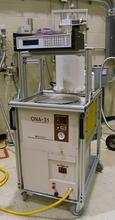 Available Instruments
There are five of these systems in use at the NCNR. Two systems are for general use (Short Tailed) and designed to fit on the standard goniometer at most instruments. Others are modified versions designed to fit on specific instruments. HFBS has its own system which can not be used elsewhere. BT4 and DCS's long tailed systems can be used on all standard instruments, but are reserved for their use. Internally the systems are very similar except for some key dimensions in the sample well and the sample sticks they use. Consult the sample mounting page and the drawings below for details.
| System Description | Temperature Range (K) | Manufacturer | Available Instruments | System Drawing (pdf) | Notes |
| --- | --- | --- | --- | --- | --- |
| TLCCR-7T | 5-700 | Janis | All | Drawing | For using with 7T magnet |
| TLCCR-05 | 5-700 | Janis | All | Drawing |   |
| TLCCR-06 | 5-700 | Janis | All | Drawing |   |
| TLCCR-FANS | 5-700 | Janis | BT-4 FANS | Drawing | Long Tail |
| TLCCR-DCS | 5-700 | Janis | DCS | Drawing | Long Tail |
| TLCCR-HFBS | 5-700 | Janis | HFBS | Drawing |   |
| TLCCR-NSE | 5-700 | Janis | NSE | Drawing | Non-magnetic |