A high temperature CCR is a modified low temperature system. The addition in this case is a hot-stage, where the sample is attached to, containing the heaters is separated from the standard cold-stage by thermal-insulating standoffs. The standoffs thermally link the two stages at low temperatures and isolates the hot stage at high temperatures. Cadmium should never be used in high temperature CCRs.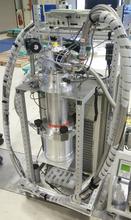 Temperature stabilization issues
Since the cooling power in high T CCRs are is smaller than regular low T CCRs, the PIDs chosen for the high T CCRs tends to have long time constants. Overshoot and undershoot are much bigger than the low T CCRs. Please ask Qiang (Alan) Ye or Tanya Dax if you need to minimize the overshoot or undershoot for your experiment.
Temperature Gradient Issues
When using high temperature CCRs, one should be aware that the temperature of the sample is not always the same as that being read by the sensor on the sample block. The bottom of the can is cooler than the sample block because it is farther from the heat source. The gradient gets worse as the system goes to higher temperatures. In most cases, the gradient is negligible below room temperature. Failure to use the heat shields, especially the inner shield, can cause huge gradients (up to 40K) in temperature. Always use both heat shields!
It is important to note that the sample and sample can take much longer to reach the set point than the sample block. A delay of about one hour can be expected in most cases for the bottom of the sample can to reach the desired temperature.
Available Instruments:
| System Description | Temperature Range (K) | Manufacturer | Available Instruments | System Drawing |
| --- | --- | --- | --- | --- |
| CCR-25 | 14-800 | Janis | All | Drawing |
| CCR-26 | 14-800 | Janis | All | Drawing |
| CCR-27 | 14-800 | Janis | All | Drawing |
| CCR-28 | 14-800 | Janis | All | Drawing |
More Information: