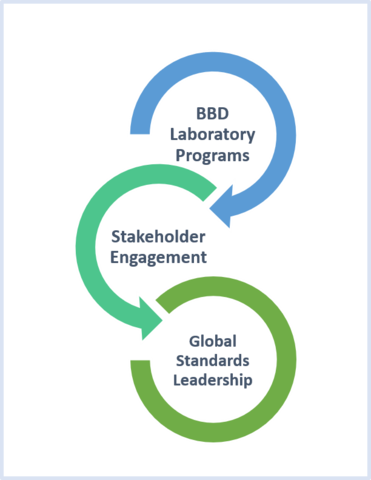 We collaborate with key stakeholders to develop and disseminate NIST products that enable comparison, ensure interoperability, and support commerce for emerging biotechnologies and engineering biology.  We also lead and contribute to various Standards Developing Organizations (SDOs), including various ISO and ASTM technical committees.  
Our laboratory programs provide the necessary expertise, fundamental measurement science, data, and advanced technologies to underpin development of standards, including documentary standards, reference materials (RMs), reference data, and software tools.
Examples of standards leadership and development activities include: 
ISO/TC 276: Biotechnology

:

 NIST chairs and administers the U.S. Mirror Committee to ISO/TC 276: Biotechnology, which develops standards for all sectors of biotechnology. NIST has created an inclusive, collaborative environment among 40+ organizations to best represent U.S. interests while promoting international cooperation.