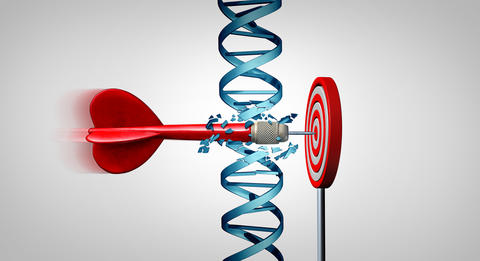 Targeted genome editing, a method used to alter the DNA of living cells at desired locations, is poised to revolutionize science and medicine. To fight diseases, novel genome edited therapeutics, including those for use in regenerative medicine and infectious diseases, are being developed. Many commercial applications including agriculture and chemical production, are also leveraging this technology. Whether genome editing will be used in healthcare, agriculture or basic research, robust quantitative measurements are needed to enable high confidence characterization of DNA alterations. NIST has brought together experts across the genome editing field including stakeholders in industry, academia and government to assess their measurement needs. These discussions have identified common pre-competitive measurements and standards needed to establish greater confidence in the characterization of genome editing outputs. The NIST-led Genome Editing Consortium has been established to address these needs.
CONSORTIUM GOALS
Evaluate genome editing assay pipelines

Develop benchmark materials

Generate benchmark data

Develop suggested minimal information reporting for public studies

Generate a common lexicon for genome editing studies
CONSORTIUM ORGANIZATION 
Three working groups with the following responsibilities:
Working Group 1: Specificity Measurements
Design, generate, and evaluate cell and DNA based control materials and test via interlab analysis. Control materials will be used as  benchmarks for assessing  next-generation sequencing (NGS) pipelines and other platforms intended to identify induced genome editing events.

Design and conduct controlled evaluations of existing assays for quantifying on- and off-target genome editing, with a robust and optimal experimental design aimed at assessing the sources of variability, repeatability, and reproducibility within an assay
Working Group 2: Data and Metadata
Identify community norms for data formats and tools for benchmarking data analysis including in silico and experimental data sets.

Determine the type of metadata that would be needed to be shared, housed, and interrogated from genome editing experiments.
Identify terms and related definitions to form a common genome editing community lexicon.
CONSORTIUM IMPACT
Shared genome editing physical benchmark materials for assay validation

Community norms for minimum data reporting and tools for supporting data analysis

Improved understanding of and confidence in detecting and quantifying on- and off-target genome editing

Harmonized genome editing lexicon
CONSORTIUM MODEL
Convenes industry, academia, and government to identify and address measurement and standards needs across the genome editing field

Enables members to work with NIST to develop measurement solutions and standards

Leverages NIST expertise in measurement science, standards development, reference materials, technology development, and basic research

Collaborates with related programs at other federal agencies
WHY NIST
Cross-disciplinary expertise in engineering, and the physical, information, chemical, and biological sciences

As a non-regulatory agency of the U.S. Department of Commerce, NIST does not impose standards; standards are accepted by consensus

Neutral convener for industry consortia, standards development organizations, federal labs, universities, public workshops, and interlaboratory comparability testing