For genome editing systems to reach their full potential in research and commercial products, new measurement tools, capabilities, and standards must be developed to efficiently implement and assess the performance of these editing technologies, as well as to evaluate the utility of resulting products (e.g., engineered cells) for their intended purposes.
The NIST Genome Editing Program actively supports this growing industry by:
Evaluating measurement challenges related to implementing genome editing systems and understanding genome editing outcomes
Qualifying analytical methods being used to detect and assess genome editing outcomes
Developing new methods and standards to support confidence in detecting, interpreting, and reporting about genome editing outcomes
The NIST Genome Editing Program focus areas:
Physical Measurements

Data & Metadata

Documentary Norms & Standards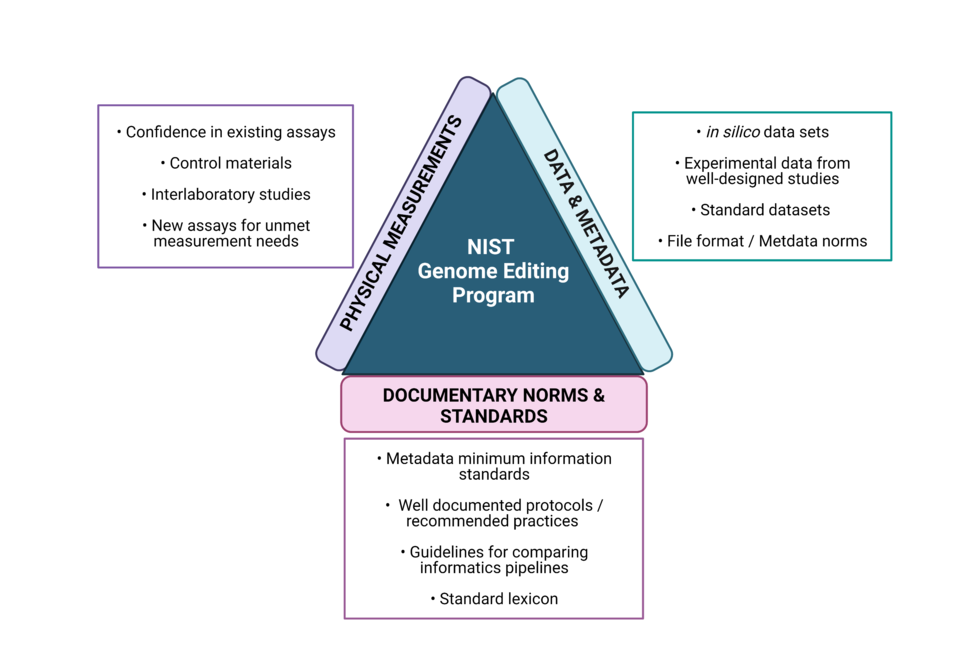 NIST GENOME EDITING CONSORTIUM
The NIST Genome Editing Consortium is a public-private partnership with genome editing stakeholders to define measurement challenges for utilizing existing measurement capabilities to understand genome editing outcomes and develop shared solutions.
QUALIFICATION OF ASSAYS FOR DETECTING GENOME WIDE OFF-TARGET ACTIVITY OF GENOME EDITING MOLECULES
NIST is working closely with technology developers and other federal agencies to apply measurement assurance (including bioinformatics), associated tools, and well-documented protocols to improve reliability and reproducibility of recently developed assays for detecting off-target activity of genome editing molecules.
Project collaborators and assays currently under evaluation:
CHANGE-Seq
NIH Somatic Cell Genome Editing (SCGE) Common Fund Program

St. Jude Children's Research Hospital, Lab of Shengdar Tsai, PhD
ONE-Seq
INDUCE-seq
Health and Environmental Sciences Institute (HESI)

Novartis

AstraZeneca

BrokenStrings Biosciences
ASSESSMENT OF GENOME EDITING REAGENTS & TECHNOLOGIES
Genome editing molecules to be introduced into a cell and/or organism can be formulated in various formats including: DNA, short RNA (in vitro transcribed and synthetic with or without modifications), mRNA, and protein. Additionally, there are several options for technologies to physically deliver genome editing molecules into cells and/or organisms. The NIST Genome Editing Program is actively assessing strategies for evaluating the properties, capabilities, and limitations of different genome editing molecule formulations as well as approaches for delivering genome editing molecules into cells.
Genome editing molecule delivery platforms under evaluation:
FluidFM OMNIUM (Cytosurge AG)

Neon (ThermoFisher)

Nucleofector 4D (Lonza)
Any mention of commercial products within NIST web pages is for information only; it does not imply recommendation or endorsement by NIST.
PUBLICATIONS
RELATED NEWS