Summary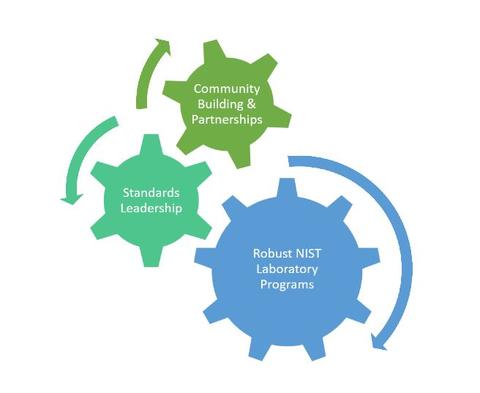 Advanced therapies, particularly those under the Regenerative Medicine and Advanced Therapies (RMAT) designation within the U.S. or as part of the Advanced Therapy Medicinal Products (ATMP) in many other regions, have shown promising clinical efficacy and are changing the paradigm for treating diseases and injuries. Clinical translation and patient access to this broad class of therapeutics requires better defined and characterized products and more robust, reliable, and cost-effective manufacturing processes.
The NIST Advanced Therapy Program supports the growing industry as well as the broader ecosystem by addressing manufacturing, characterization, and testing challenges. Our efforts include 1) developing measurement assurance strategies and innovative measurement solutions, 2) convening stakeholders, including regulatory agencies, to identify industry-wide challenges and pre-competitive solutions, and 3) leading and contributing to the development of global documentary standards and reference materials. Together, we aim to accelerate research and development to commercialization through biometrology, data, and globally harmonized practices and standards. 
DESCRIPTION
RMAT Laboratory Programs – Our programs leverage BBD core capabilities in biometrology, engineering biology, as well as state-of-the-art automation, machine learning (ML) and artificial intelligence (AI) to address unique measurement challenges associated with advanced therapies.
Our team is focused on quantitative measurement of quality attributes for cells, cellular systems, and other biological entities (e.g., DNA/RNA, viral vectors and other delivery vesicles, and genome editing tools), and their complex and dynamic interactions.
Our laboratory programs provide the scientific foundation and data underpinning the development of documentary standards and reference materials.
Click here for an example of how NIST is supporting cell therapy
Click here for an example of how NIST is supporting gene therapy
Click here  for an example of how NIST is supporting tissue engineering
Standards Development – Standards are critical in the development and commercialization of new technologies and facilitate national and international commerce. Standards also have an important role in ensuring product quality and consistency as well as streamlining regulatory approval. 
Under the previsions enacted under the 21st Century Cures Act (U.S. Public Law 114–255), NIST continues to work with the U.S. FDA, the Standards Coordinating Body, the NIH, and other stakeholders to develop standards for advanced therapy manufacturing and testing. NIST is developing documentary standards as well as reference materials to support advanced therapy.
Click here for an overview of standards development principles
Click here to access SCB's Regenerative Medicine Standards Landscape report
Click here to access FDA's Standards Development Guidance for Industry 
Stakeholder Engagement – NIST works with industry, academia, and other agencies to identify and develop measurement solutions. Learn more about our strategic partnerships, interagency coordination via MATES, collaboration with the U.S. FDA including jointly held workshops, and the NIH Regenerative Medicine Innovation Project.
Other collaborators include:
NIIMBL 
BioFabUSA
Standards Coordinating Body
CMaT