A systematic approach to the development of robust biological assay includes identifying and ranking the sources of variability in an assay protocol.  With a focus on mammalian cellular assays, the Prototype Cell Assay Measurement Platform (P-CAMP) laboratory was designed and built to take advantage of automated instrumentation and design of experiment (DoE) concepts to directly introduce many variations in an assay protocol.   The P-CAMP can perform 1000s of assay experiments with variations and is compatible with many assay protocols and assay readout instruments due to the large deck area and customized instrument cabinet.  Our initial use cases involve identifying variability in cell viability assays and genome-editing assay protocols.  The P-CAMP is a unique biofoundry for rapidly generating robust protocols for biological and cellular measurements. 
Our automation-based system was designed to accommodate the steps typically used in a assay protocols (i.e. cellular assays).  The following are the current features and components of P-CAMP.
P-CAMP Layout and Capabilities

: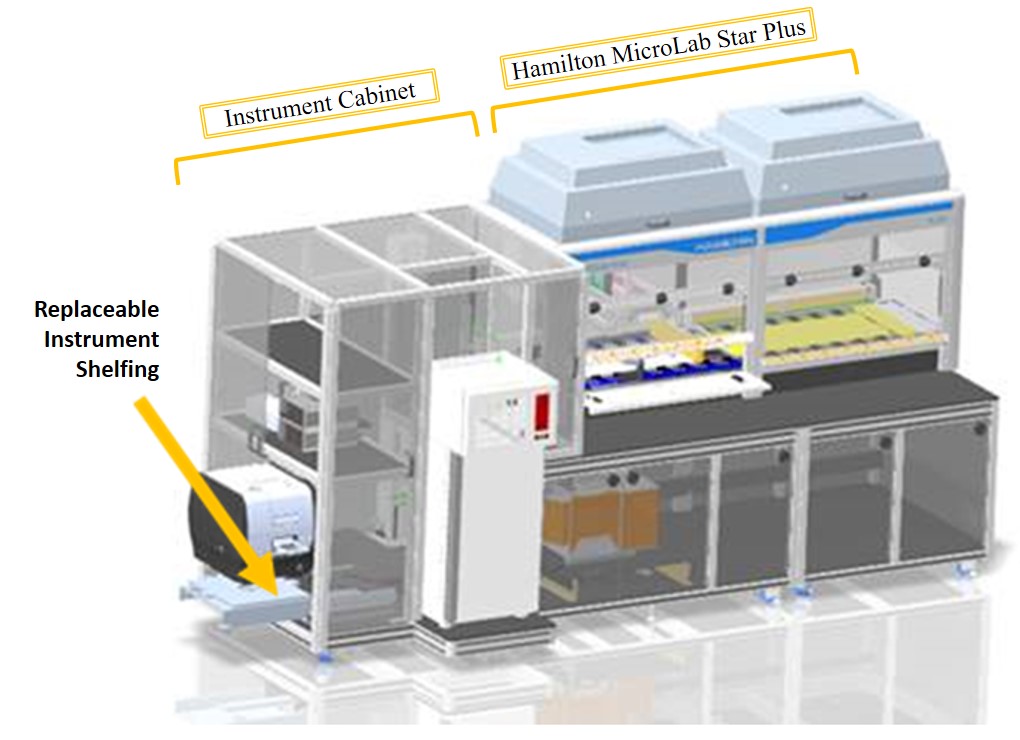 The Prototype Cell Assay Measurement Platform (P-CAMP) is an integration of a Hamilton MicroLab Star Plus robotic pipetting workstation and a modular instrument cabinet.  It is built  to accommodate a flexible design strategy:
Dynamic Programming: The ability of a multi-channel liquid handler robot to easily vary experimental factors across 1000s of experiments simultaneously. Moreover, a potential of single software-controlled variability on all the connected instruments.

Modular hardware: The ability to alter the configuration of the Star Plus deck layout and to switch the instruments on the cabinet per the requirement of the experiments.

This is feasible due to the working surface in Star Plus (called Deck) which is over 2 meters long consisting of 71 tracks for placing interchangeable carriers that hold reagent containers (e.g. tubes, plates etc.) and other labware, and t

he replaceable shelfing on the instrument cabinet that can be custom made for a variety of instruments.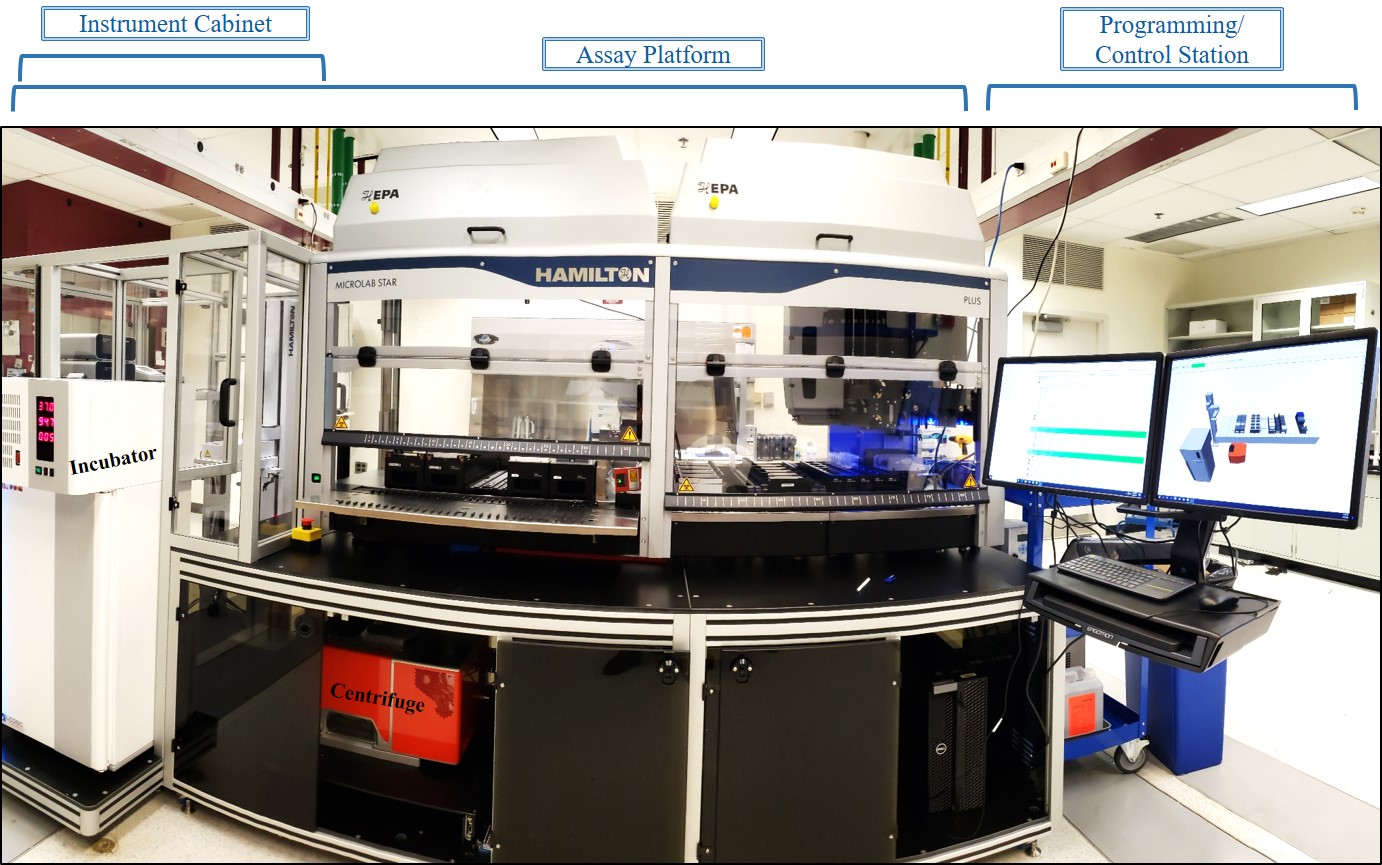 P-CAMP DECK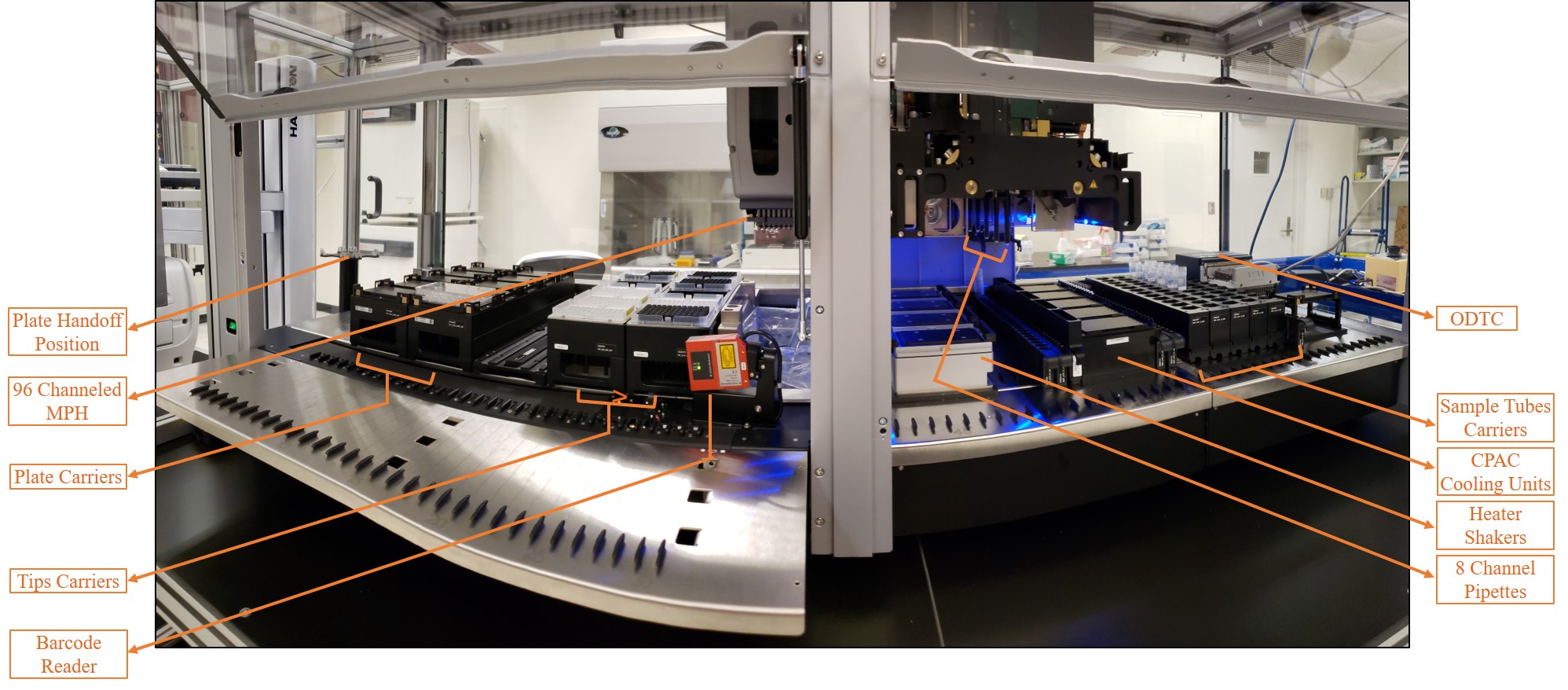 A pipetting arm with 8 channels

A multiprobe pipetting head (MPH) with 96 channels

An iSWAP and CO-RE grippers for plate handling

A 1D barcode scanner

CPAC heating/cooling units

Four Hamilton heater shakers (HHS)

On deck Thermocycler (ODT)

A pair of Star HEPA filters with UV light option

Multiple tips, plates and tube carriers and plate stacking modules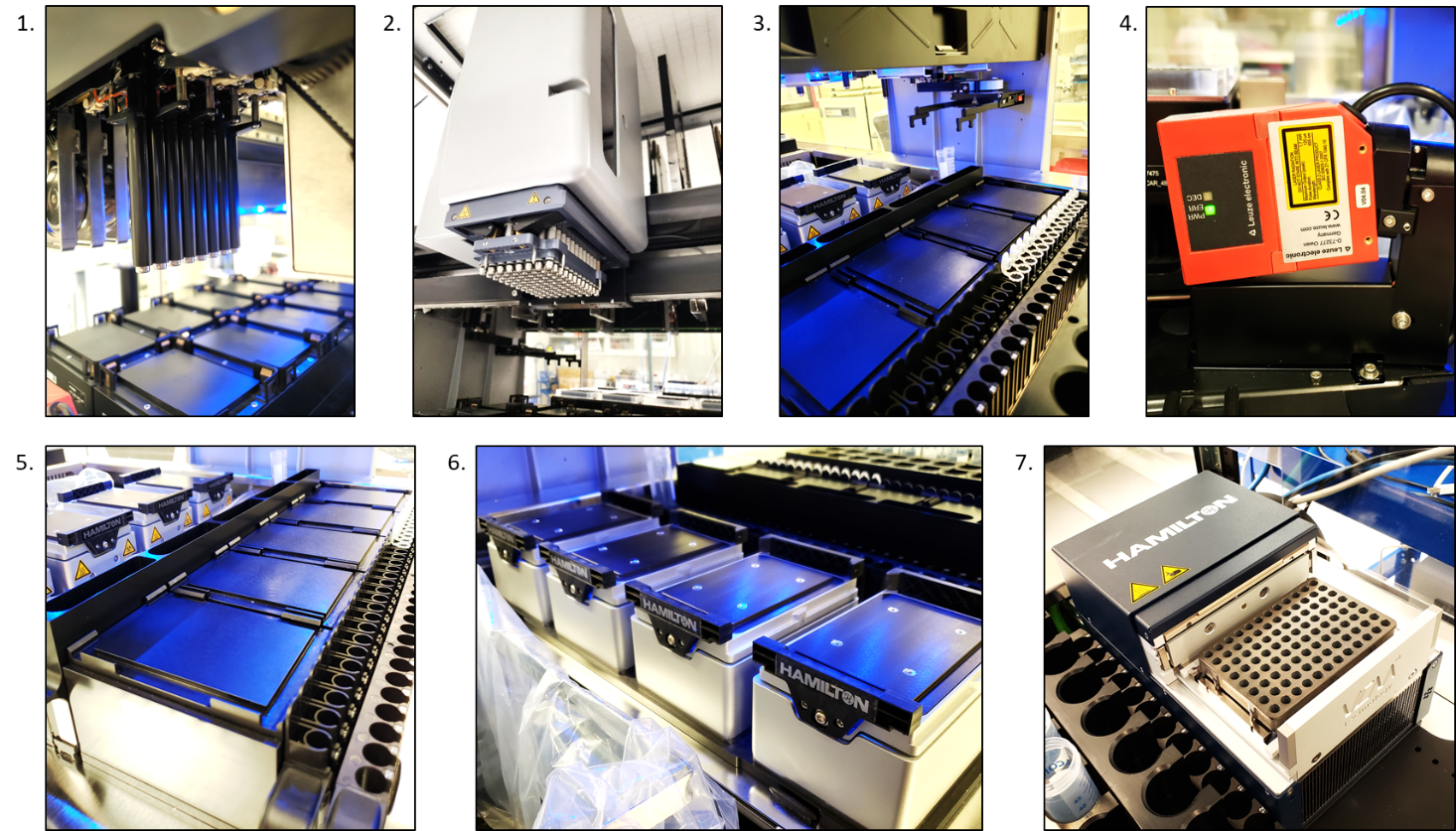 INSTRUMENT CABINET

Our modularly designed instrument cabinet is currently equipped with the following instruments: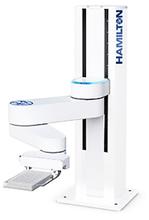 H-Motion Arm:

BioTek Cytation 5 Imager/Plate reader

Nexcelom Biosciences Cellaca MX cell counter

Liconic Incubator

Lonza Nucleofector

Bionex Centrifuge
Controlling Software:
An open design software- Venus 4 controls all the on-deck liquid handling and plate transfers, ODTC, incubator, centrifuge, plate reader/imager and nucleofector. Venus is also equipped with all the tools needed for worklist handling, LIMS adaption, database- and server controls, scheduling or third-party component control.