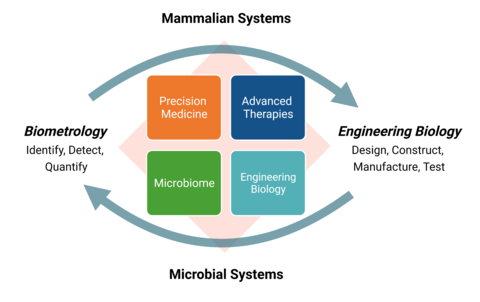 BBD advances biometrology and engineering biology by integrating state-of-the-art measurement capabilities with automation and ML/AI.
Biometrology: identification, detection, and quantification of nucleic acids, proteins, cells, and other biological entities and systems
Engineering biology:

application of engineering design principles and practices to biological systems, including molecular and cellular systems, to advance fundamental understanding of complex natural systems and to enable novel functions and capabilities
BBD's core capabilities support a technical portfolio that includes both mammalian and microbial systems, their components, and systems. Our programs are designed to be agile and address the most pressing needs within the rapidly evolving biotechnology industries. Our core measurements serve a number of applications including engineering biology, advanced therapies, precision medicine, and microbiome measurements. For more information about our Primary Focus Areas, please click here. 
Core Biometrology Capabilities
Nucleic acid measurements 

Multiomics

Cell measurements 

Multicellular systems
Core Engineering Biology Capabilities
DNA/RNA library design

Synthetic biology tools: Parts and genetic circuits 

Genome engineering 

Cell line engineering 

Biofabrication

Viral vector engineering 
Major Biometrology, Engineering Biology, Biomanufacturing Platforms
Sequencing and multiomics 

Single cell measurements and engineering platforms

Biomanufacturing and bioprocessing 

Data analytics, bioinformatics, & predictive modeling