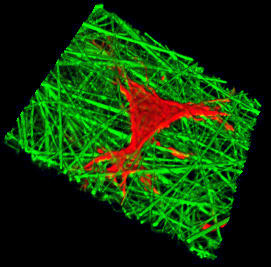 Tissue Engineering Measurands: Tissue engineering measurands are confusing to discuss and a charting method to improve communication is demonstrated.
Measurement Assurance Strategies for Regenerative Medicine: Reliable methods for assessing product consistency and quality.
Regenerative Medicine: Clinical translation of advanced therapies requires better characterization of products and more robust, reliable, and cost-effective manufacturing processes.
ASTM Committee F04 on Tissue-Engineered Medical Products: ASTM serves a neutral ground where stakeholders can openly discuss and develop standards for measurements of product attributes.
Absorbance Imaging & AI for Assessing Quality of Tissue Engineered Retinal Pigment Epithelium: Measurement of RPE pigmentation as a non-invasive method to assess tissue quality during biomanufacturing.
Combinatorial Cassettes: Combi-cassettes enable 19 tissue-engineered constructs to be placed into one mouse, improving the quantitative rigor of animal tests.
Measuring Cell Viability in Scaffolds: An ASTM working group has been formed to develop a standard test method for assessing viability of cells encapsulated in hydrogel scaffolds.
Scaffold Characterization: Validated, open-source ImageJ plugin (DiameterJ) for automated measurement of nanofiber diameter in scanning electron micrographs.
3D Cell-Scaffold Interactions: 3D imaging of cells and scaffolds to provide fundamental principles for design of 3D tissue-engineered constructs.
Scaffold Fabrication: Airbrushed Scaffods & Combinatorial Methods: Methods for fabricating scaffolds and scaffold libraries.
Scaffold Handling Device: A positive and negative air pressure device for efficient and gentle handling of nanofiber scaffolds.