RESEARCH INTERESTS
Cell therapy and regenerative medicine

Measurement assurance strategies

Cell counting and cell viability measurements

Metabolic assays

Oncology applications

High-throughput screening and automation

Machine learning for cell morphology characteristics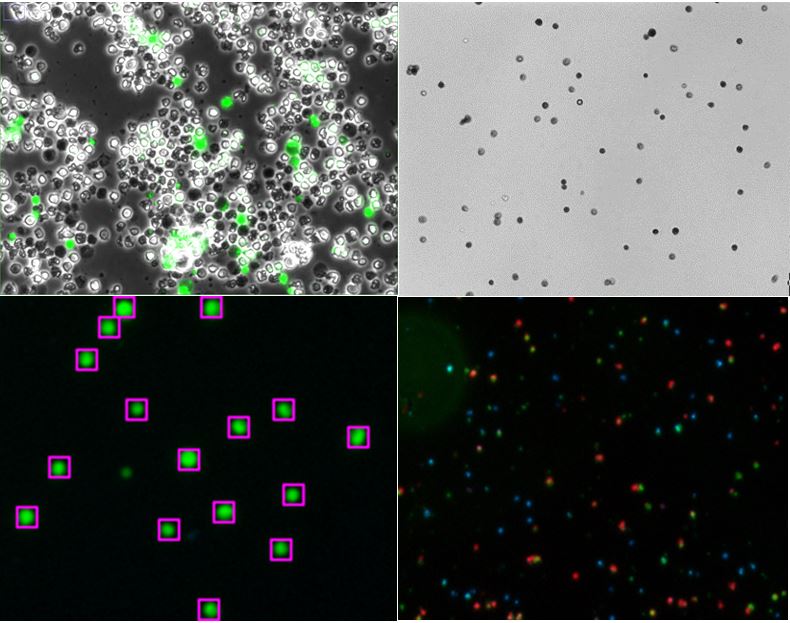 Top Left: Live cell brightfield and fluorescent overlaid images of Jurkat cells undergoing apoptosis after overnight treatment with 10 µM camptothecin (green, Annexin V-CF488A).  Top Right: Brightfield image of Jurkat cells stained with Trypan blue following 30 min of heat treatment at 70 °C.  Bottom Left: Jurkat cells stained with acridine orange and counted.  Bottom right:  Jurkat cells following overnight treatment with 10 µM camptothecin stained for total cells (blue, Hoechst 33342), dead cells (red, propidium iodide), and apoptotic cells (Annexin V CF488A, green).
AWARDS
Mentor, NIST SURF student program (2017 – present)

Best Student Presentation Award, Society for Physical Regulation in Biology and Medicine annual conference, 2002.  Presentation entitled "Oxysterol mediated endothelial dysfunction in sickle cell disease."

Student travel scholarship to attend Society for Physical Regulation in Biology and Medicine annual conference, 2002, San Diego, CA.

GE Fellowship Award, Northeastern University, August 2000.  Awarded annually to one qualified student entering chemical engineering department.

Abstract accepted and presented at Southeast Biomedical Engineering Conference, Washington, DC.  Paper entitled "The serum of sickle cell patients induces translocation and abnormal function of endothelial nitric oxide synthase."
PATENT
Combinations for the Treatment of B-cell Proliferative Disorders. Richard Rickles, Laura Pierce, Margaret S. Lee. Pub. No. 2009/0047243 A1. Pub. Date Feb. 19, 2009.
PUBLICATIONS
A Screen of Approved Drugs and Molecular Probes Identifies Therapeutics with Anti- Ebolavirus Activity

.

Lisa Johansen1, Lisa Evans DeWald2, Charles J. Shoemaker3, Benjamin G. Hoffstrom1, Calli M. Lear-Rooney2, Andrea Stossel2, Elizabeth Nelson3, Sue E. Delos3, Jill M. Grenier1, Laura T. Pierce1, Hassan Pajouhesh1, Joseph Lehár 1,4, Lisa E. Hensley2, Pamela J. Glass2, Judith M. White3, and Gene G. Olinger2

,† Sci Transl Med. 2015 Jun 3;7(290):290ra89

Adenosine A2A and Beta-2 Adrenergic Receptor Agonists: Novel Selective and Synergistic Multiple Myeloma Targets Discovered through Systematic Combination Screening.  Rickles RJ, Tam WF, Giordano TP, Pierce LT, Farwell M, McMillin DW, Necheva A, Crowe D, Chen M, Avery W, Kansra V, Nawrock ST, Carew JS, Giles F, Mitsiades CS, Borisy AA, Anderson KC, Lee MS. Mol Cancer Ther.

2012 Jul;11(7):1432-42.

Adenosine A2A receptor agonists and PDE inhibitors: a synergistic multi-target mechanism discovered through systematic combination screening in B-cell malignancies


Richard J Rickles, Laura T Pierce, Thomas P Giordano, Winnie F Tam, Douglas W McMillin, Jake Delmore, Jacob P Laubach, Alexis A Borisy, Paul G Richardson, and Margaret S Lee. Blood. 2010 Jul 29; 116(4): 593-602.