Making a Measurand Chart: 
A measurand chart can be created for any measurement by writing down all the measurands that occur during the measurement.

The panels should not be procedural steps, such as "wash the sample with buffer" or "centrifuge the microfuge tubes".

Consider if the measurement has a light source, a sensor, or a detector, since these will generate measurands.

If there is a numerical readout or generation of a data file, consider how these may be analyzed.

Think about equations that are used.

Identify the "primary measurand," which should plainly state what is being measured in only a few words.

Think about key assumptions.

Consider how the data will be used in terms of decision-making.

The panels s

hould start with words such as "amount of", "concentration of", or "number of".

Finally, the panels should be linkable by placing the words Measure the in front of the first measurand and by measuring between the rest.

These are not firm rules but guidelines.

If the chart helps improve understanding of a measurement, then the goal is met.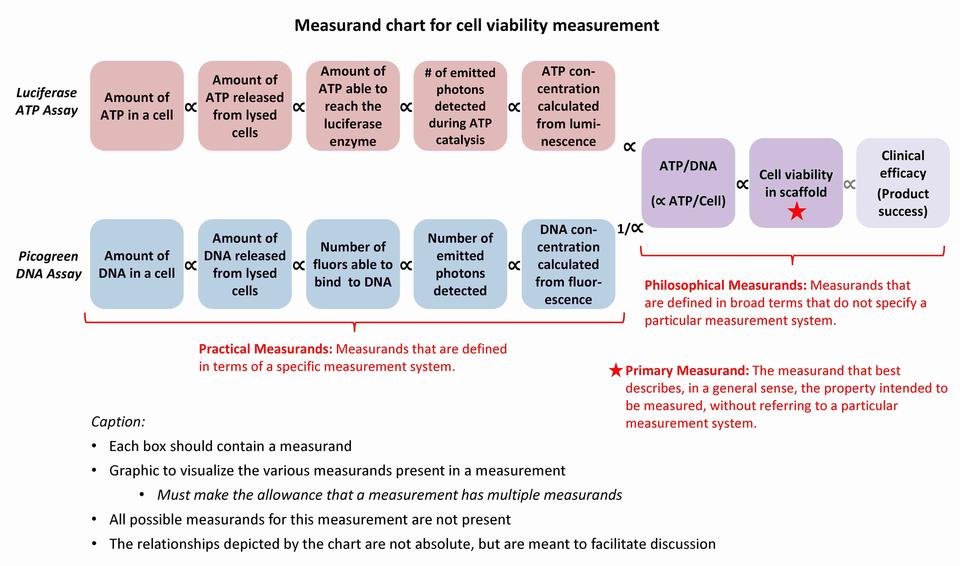 Definition of "Measurand":
noun, the quantity or property intended to be measured
Use of the word "intended" in this definition is intentional

It may not be possible to measure what you intend to measure

Or you may not be measuring what you intend to measure (due to experimental artifacts) 

A measurement can have multiple measurands

Source:

International Vocabulary of Metrology - Basic and General Concepts and Associated Terms (VIM), 3rd Edition. Joint Committee for Guides in Metrology (JCGM) 200:2012.
Definition of a "Viable Cell":
noun, a cell that has 1) an intact membrane and the 2) capacity for metabolism, 3) motility, 4) proliferation, and 5) reaction to stimuli
Slides: TE_measurands.pdf
Reference: Arora D, Babakhanova G, Simon Jr CG (2020) Tissue engineering measurands. ACS Biomaterials Science & Engineering 6, 5368-5376. https://doi.org/10.1021/acsbiomaterials.0c00475