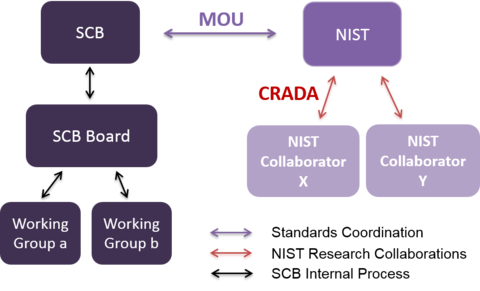 The National Institute of Standards and Technology (NIST) and the Standards Coordinating Body for Gene, Cell and Regenerative Medicines and Cell-based Drug Discovery (SCB) are jointly coordinating and contributing to the development of standards for accelerating R&D and clinical translation of regenerative medicine and advanced therapies.
The NIST laboratory programs provide underpinning measurement science and data to support the development of innovative science-based standards and technology in support of the bio-economy. NIST scientists collaborate with industry, academia, and other entities through both formal and informal arrangements. Cooperative Research and Development Agreements (CRADAs) allow NIST to partner on joint R&D projects that may include licensing IP rights between NIST and non-Federal organizations. NIST works with other government agencies including the U.S. Food and Drug Administration (U.S. FDA) on research collaborations, workshops, and standards development activities. 
NIST administers the US Mirror Committee to ISO/TC 276: Biotechnologies, which is developing standards relevant to cell and gene therapies.
The SCB, a non-profit organization, was established by regenerative medicine stakeholders and industry, including the Alliance for Regeneration Medicine (ARM), to coordinate the development of standards for regenerative medicine therapies. In September 2016, NIST and SCB established a Memorandum of Understanding (MOU) to collaborate on efforts for the development and advancement of standards for cellular and gene therapies, other regenerative medicine therapies and cell-based drug discovery. The collaborative activities include:
 
Identifying areas of mutual interest for R&D activities,
Providing educational tools for standards development and use,
Jointly planning conferences and workshops to engage stakeholders,
Disseminating information regarding existing standards,
Developing web content with information about standards for regenerative medicine.
In October 2017, the U.S. FDA awarded a one-year contract to Nexight Group to engage with experts to recommend processes and outline a strategic plan for developing standards in regenerative medicine and advanced therapies. The SCB has partnered with Nexight to provide subject matter technical support for this effort. This work will lay the foundation for standards development in regenerative medicine research and product development.
To learn more about the NIST Regenerative Medicine Biomanufacturing program in the Biosystems and Biomaterials Division, click here.