Collaborations and Cooperative Research Agreements
We welcome collaborations and can help with assay validation and development of reference materials. Below are some examples of our collaborations and ways we can develop test materials.
Early Detection Research Network (EDRN): Interagency agreement to provide measurements to early detection of cancer biomarkers as a reference laboratory. Collaboration with EDRN biomarker discovery labs to help in method validation and test materials. Development and interlaboratory testing of reference materials for circulating tumor DNA (ctDNA), methylated DNA biomarkers in liquid biopsy, and extracellular vesicles.

NIST has an ongoing collaboration with the Molecular Characterization Laboratory (MCL) at the Frederick National Laboratory for Cancer Research to provide them with RMs for validation of actionable targets. SRM 2373 genomic DNA for HER2 gene copy numbers was used by MCL scientists to validate the performance of digital PCR and Next Generation Sequencing (NGS) assays for evaluating gene variations associated with an increased risk of breast cancer. Reference: "Certified DNA Reference Materials to Compare HER2 Gene Amplification Measurements Using Next-Generation Sequencing Methods" 

Foundation NIH Cancer Biomarker Consortium, project: Development of circulating tumor DNA reference materials. Memorandum of Understanding to work to provide measurements of ctDNA for testing and developing reference materials for ctDNA. Partners NCI, Dana Farber Cancer Institute, and Astra Zeneca

Collaboration with Dr. David Wong, UCLA School of Dentistry, Associate Dean of Research to investigate the mechanism of the electronic chip detection of cell-free DNA for cancer detection.

Collaboration with Dr. Steve Bogen, Tufts Medical Center, quantitative measurements of the binding of PDL-1 antibodies for calibrations of immunohistochemistry measurements for cancer immunotherapies

ATTC: Materials Transfer Agreement for extra-cellular macrovesicles for materials for cancer detection.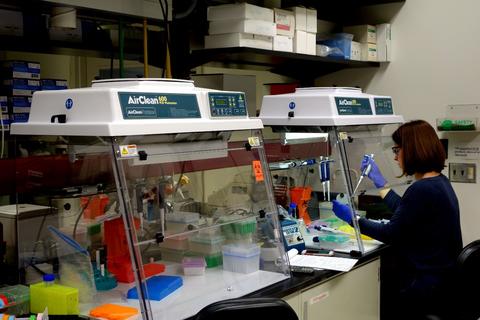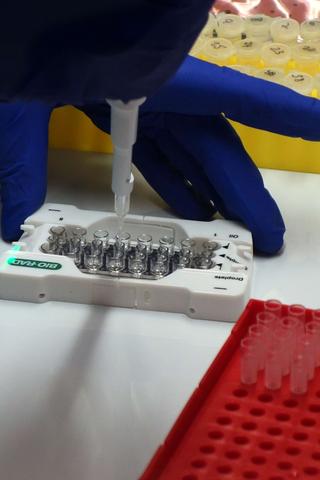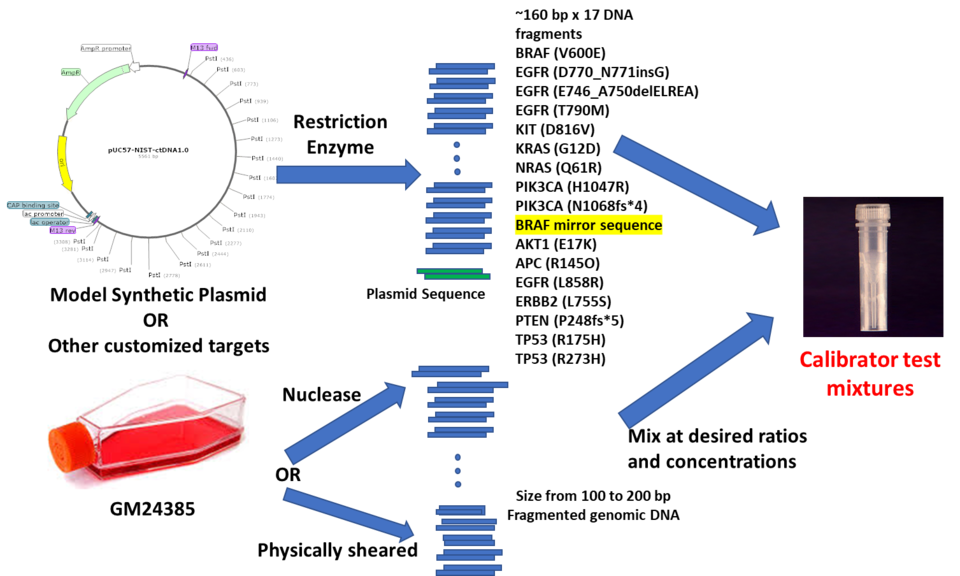 NIST Cancer Biomarker Reference Materials: 
STANDARD REFERENCE MATERIAL (SRM) 2373®: GENOMIC DNA STANDARDS FOR HER2 MEASUREMENTS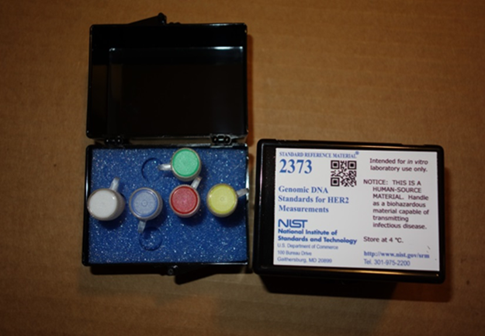 The amplification of the gene for Human Epidermal Growth Factor Receptor 2 (HER2) occurs in approximately 20 to 25% of breast cancers. The accurate measurement of this biomarker is important for the proper treatment with anti-HER2 therapeutics. Diagnostic tests like HER2 assays make it possible to select the best-personalized treatment for individual patients based on the genetic makeup of their tumors.  
The copy numbers of the HER2 gene and 3 reference genes (not amplified) were measured using quantitative PCR and digital PCR assays. The certified values of the components are the ratios of the HER2 gene copy number to the reference gene copy numbers. The PCR assays were validated and calibrated using SRM®2372 component A (human genomic DNA). The stability of the components was shown by repeated measurements over several years. The DNA concentration determined from absorbance and the PCR assays was provided as informational value. This SRM is available from NIST as SRM 2373®.
RM 8366: GENE COPY NUMBER STANDARDS FOR EGFR AND MET
We have developed genomic DNA RM for copy number measurements of the genes for MET and EGFR (Epidermal Growth Factor Receptor). MET and EGFR are both tyrosine kinase proteins found on the surfaces of cells that response to external growth factors. Mutations or amplification of the genes for MET and EGFR can cause increased cellular signaling for cell growth or mobilization resulting in cancer. The accurate measurements of these cancer biomarkers are important for the correct diagnostics to determine the treatment, since specific therapeutics are available for both of these targets. 
RM 8366 consists of purified genomic DNA isolated from six different cancer cell lines with different amounts of amplification of the EGFR and MET genes (Fig.2). It is intended to harmonize the measurements of ratios of the human EGFR and MET genes to unamplified reference genes. This RM is available from NIST as RM 8366.