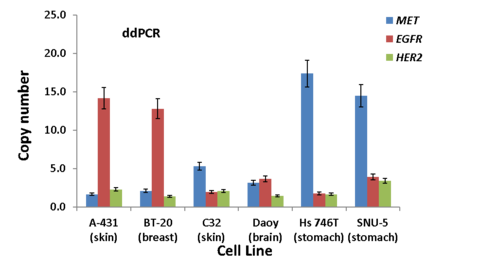 NIST Reference Material 8366 for cancer biomarkers EGFR (epidermal growth factor receptor) and MET (proto-oncogene, receptor tyrosine kinase) gene copy number measurements is available for purchase.
The genes for EGFR and MET are frequently amplified in different types of cancer, and DNA measurements of the gene copy number variations are used for cancer detection, diagnosis, treatment selection, and prognosis. RM 8366 consists of genomic DNA extracted from six human cancer cell lines with different amounts of amplification of the target genes. The reference values for the ratio of the EGFR and MET gene copy number to the copy numbers of reference genes were determined by digital polymerase chain reaction.
The utility of Reference Material 8366 for next-generation sequencing  was tested in the Molecular Characterization and Clinical Assay Development Laboratory at Frederick National Laboratory for Cancer Research and Peter MacCallum Cancer Centre in Australia. Reference Material 8366, in addition to NIST Standard Reference Material 2373 - Genomic DNA Standards for HER2 Measurements), expands the NIST portfolio of precision medicine standards to support measurements for the cancer community.
The National Cancer Institute MATCH (Molecular Analysis for Therapy Choice) trial, the biggest precision medicine cancer treatment clinical trial, plans to use components of the NIST reference materials to evaluate cancer measurements in their laboratories.