Students' Perspectives on Careers in Cybersecurity
By Felicia Rateliff, iKeepSafe
The increasing expansion of technology and the lack of qualified people to meet its demands has led to a great need for more cybersecurity workers. Many believe that increasing the cybersecurity workforce needs to begin with K-12 students.  But how?  To learn more, we went directly to the source. We asked middle and high school students and recent graduates for their perspectives on what they knew about cybersecurity careers.
HOW DID YOU FIRST BECOME EXPOSED TO OR AWARE OF CYBERSECURITY AS A POTENTIAL AREA OF INTEREST OR CAREER?
Recent graduate, Molly Shapiro from Wilmington, DE, shared "I heard about the cybersecurity competition team, Girls Go Cyber Start, during my freshman orientation and thought it sounded really interesting. It would also be a good way to develop some teamwork skills since I wasn't part of any sports teams at my school."
Tristan Lee a twelfth grader from San Antonio, TX was introduced during his middle school through a technology introduction course. "During eighth-grade class we covered basic technology concepts that included cybersecurity from passwords to services and protocols. After that point I went into high school thinking this might be a career I wanted to learn more about."
Michaela James, from Washington DC, was also introduced to cybersecurity early after attending a National Society of Black Engineers event with hands on cipher challenges. "I actually started then taking college computer science classes in the seventh grade and completed my GED at age sixteen."
Ace Galey, an eighth grader from Las Vegas, NV, "my dad introduced cybersecurity as a career possibility. He was working at home and I thought it was cool what he was doing."
Jacob Marchionda, a twelfth grader from Farmington Hills, MI, became intrigued "through all the news articles and media coverage. I started thinking that this could be an area where I could really make a difference."
WHAT OPPORTUNITIES OR EXPERIENCES HAVE BEEN MOST HELPFUL TO YOU-FOR LEARNING ABOUT CAREERS IN CYBERSECURITY?
Ashmita Kumar, an eleventh grader from Fullerton, CA, participated in "a school sponsored summer camp before freshman year where they talked about the many openings in cybersecurity and how it protects us." "I participated in a wide range of competitions including CyberPatriot and various Capture the Flags. I also use resources from the CISCO NetAcademy, Cyber Start America, and I was able to complete my CompTIA A+ certification."
Tyler Jones, an eleventh grader from Moreno Valley, CA, "took a JROTC elective course that included competing in CyberPatriot. Competitions allow you to apply the skills you use in class. It also encouraged me to become a mentor for other team members."
WHAT ADVICE WOULD YOU GIVE EDUCATORS WHO ARE WANTING TO ENCOURAGE STUDENTS TO CONSIDER CYBERSECURITY AS A POTENTIAL CAREER?
"It is important for students to know what cybersecurity is", Ivan Ayala from Anaheim, CA, shared.  "When I was in eighth grade, I had the opportunity to take an Introduction to Cybersecurity course at my school. At first, I thought it was just going to be about coding but then I found out it was a lot more- like systems hardening and digital forensics."
Pilar Zinsmeyer, a twelfth grader from Castroville, TX, shared, "when I first enrolled in the AF-ROTC program, I thought the class was going to be about hacking. It is so important to let students know the various possibilities. In addition, I would recommend setting aside a day to do hands-on activities and guest speakers."  
Chris Tunstall, a tenth grader from Grand River, MI, agrees with Pilar. "To get students more interested, there needs to be K12 programs that promote cybersecurity careers along with the related skills. You need to share the different fields impacted by cybersecurity and explain the different work roles."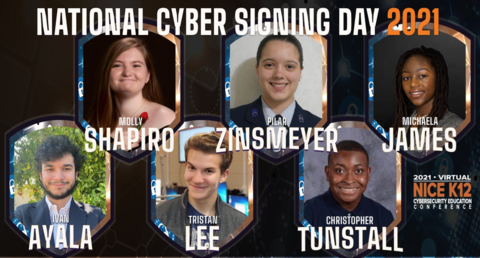 All the students emphasized the importance of sharing the wide range of career options to students starting early. Diego Garcia-Rivera, an eighth grader from Las Vegas, NV, highlighted consensus of the group by stating, "you need to include the application of cybersecurity."  Final words from Jacob Marchionda summed up the student's recommendations:
"As a general rule, students should not feel pressured to take a certain path, but instead follow their curiosity- there is something for them.  Explain what cybersecurity is and why it is important."
The students from the 2021 NICE K12 Cybersecurity Education Conference student panel and Cyber Signing Day awardees have more advice to share. Visit the Conference website and watch their videos to hear more details.
NICE eNewsletter Winter 2021-22