Developing Cybersecurity Experts for the Fifth Domain
By Tish Rourke, Vice President of Cyber and Intelligence, Lockheed Martin's Rotary and Mission Systems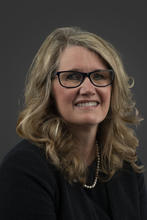 As our nation and the world continue to face persistent and increasingly sophisticated, malicious cyber-attacks and campaigns, capabilities like Lockheed Martin's full-spectrum cyber programs and cyber-resiliency become more important each day. Lockheed Martin, part of the Defense Industrial Base, is a global security and aerospace company that supports the "fifth domain" or cyberspace – the latest theater of warfare – alongside sea, land, air, and space.
The company's Rotary and Mission Systems (RMS) business area delivers Mission First innovation across the company's portfolio of rotorcraft technology, sensors, radar systems, command and control, combat simulation and training, advanced cybersecurity, and undersea systems. With a portfolio spanning nearly 900 programs in more than 100 nations, the company seeks to employ the world's leading cybersecurity experts to create unparalleled readiness today and into the future, for any mission.
In the cyber space, competition for talent is fierce, especially for candidates with the highest security clearances. Consequently, RMS created the Cyber Accelerator Program (CAP) in 2019 with many strong and capable experts (in cyber and otherwise) already among Lockheed Martin's existing base of dedicated employees and in keeping with the businesses' commitment to professional employee development. CAP is a registered U.S. Department of Labor apprenticeship program providing individually tailored learning solutions including academic and experiential learning and mentorships. This self-paced program upskills current employees with strong technical backgrounds to pursue cybersecurity careers across Lockheed Martin's programs at the highest levels of government clearance - accelerating their careers, advancing our customers' missions, and helping to meet the rapidly expanding demand for national and global cyber talent. What makes CAP truly unique is that the teams delivering products and services to customers are directly involved in shaping and structuring the learning requirements for each CAP participant, which ensures course graduates are placed on a cyber program with the exact, specific skillset needed to succeed in their role and their career while meeting customer needs. 
Since its inception, CAP has hosted three cohorts and in 2021 graduated its first apprentices, all of whom have now obtained one or more industry-recognized cyber certifications, in accordance with U.S. Department of Defense Directive 8570/8140, and are using their new cyber skills to support customer missions critical to national defense. These graduates are excited about the potential and new opportunities this program offers, citing the vast resources provided such as interesting courses, hands-on classes, and direct access to cybersecurity experts. Amanda S., a CAP graduate who recently advanced into a new cybersecurity position on a customer's critical program, shared, "CAP has provided me with an immense number of opportunities, including training, networking, and more. I found cyber to be such an interesting field. This opportunity has opened so many doors and possibilities for the future." 
RMS leadership is also realizing the benefits of CAP. Deon Viergutz, vice president of Lockheed Martin's Spectrum Convergence market segment, recently commented about the program, "Our government customers rely on Lockheed Martin for outstanding program support. For that to happen, we need talented cleared professionals. CAP helped us source new talent from across RMS, establish a pipeline of resources, and demonstrate our Mission First commitment to our customers. Spectrum Convergence has had several programs participate in CAP, past and present, enabling numerous employees to fill critical cyber roles, gain valuable certifications and training, and help us achieve our customer commitments, which makes RMS and the greater Lockheed Martin enterprise stronger as a result." 
At Lockheed Martin, every program, every platform, and every sensor and system we support has a cyber component and therefore needs not only the most cutting-edge cyber technology but also top-tier cyber professionals. Employees who take on the challenge of the CAP program not only create limitless career opportunities in the fifth domain, but they also cement themselves into the future of our national defense. 
NICE eNewsletter Winter 2021-22