New Portal Offers Search of 100+ STEM Training Opportunities at Federal Agencies
By Dr. Diana Weber, Communications and Public Affairs Coordinator, National Coordination Office (NCO), Networking and Information Technology Research and Development (NITRD)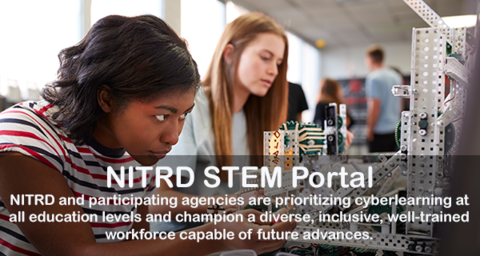 As students start their journey in science, technology, engineering, and mathematics (STEM) fields, it can be challenging for them to find internships to gain experience. The wide variety of STEM fields to choose from can seem daunting. The need to gain experience while still navigating what path to take is often intimidating. And then there is the million-dollar question that so many students have asked … how does one find a STEM internship? 
Usually students start with a Google search, which can be laborious, frequently unproductive, and even disheartening. Some students get discouraged or overwhelmed and give up. This is also true for those already working in a STEM field but desire additional tangential experience. That does not help bring more people into STEM fields. But this new tool does! A newly released STEM portal allows students, educators, postdoctoral fellows, and early career researchers to search for internships, scholarships, and other training opportunities at federal agencies.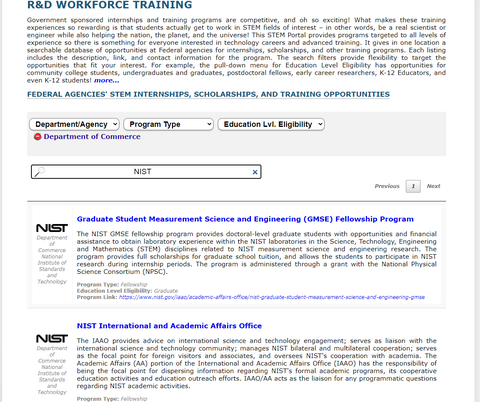 This really cool resource was prepared by the team at Networking and Information Technology Research and Development (NITRD), a National Coordination Office (NCO). The portal provides programs targeted to all levels of experience so there is something for everyone interested in technology careers and advanced training. Each listing includes the description, link, and contact information for the program. It is easy to navigate – either type in the search bar or use the pull-down menu. (In Screenshot 1, note where "NIST" is typed and that the output was training opportunities at NIST.) The portal uses a "smart" search in that it can match words regardless of the order, conduct partial word matching, or search for an exact phrase by putting double quotes around the term. For example, the pull-down menu for Education Level Eligibility has opportunities for community college students, undergraduates and graduates, postdoctoral fellows, early career researchers, K-12 Educators, and even K-12 students! (See Screenshot 2 below.) The nonstudent opportunities are listed under Educational Partners.
The NITRD STEM Portal has a large selection of program types, which range from internships, apprenticeships, thesis awards, and so much more. (See Screenshot 3 below.) The results currently encompass 119 programs from over 30 federal agencies. (See Screenshot 4 below). The federal agencies are listed within their department. For example, NIST and the National Oceanic and Atmospheric Administration (NOAA) are both listed within the Department of Commerce. The National Institute of Health (NIH) programs are listed under the Department of Health and Human Services. The search filters provide flexibility to target the opportunities that fit a person's interest. 
So log on to the NITRD STEM Portal and start searching for the next exciting training opportunity for you, family members, students you know, or friends. This resource can make a difference in someone's life!