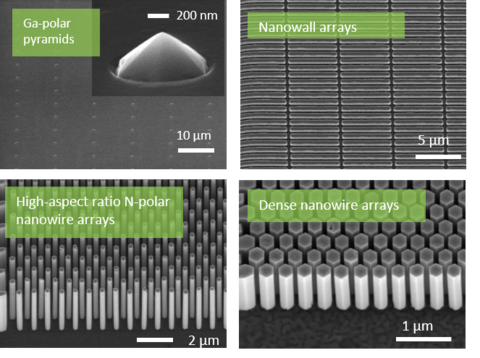 Scanning probe metrology using GaN nanowire tips: A major goal of our project is to develop new metrology tools for examining the optoelectronic properties of semiconductor nanostructures. We are currently developing GaN nanowires as multifunctional scanning probe tips, combining light emission, microwave reflection, and topology measurement. The nanowires have been shown to retain their shape indefinitely, thus they are more durable than standard glass near-field scanning optical microscopy (NSOM) tips and more reproducible than state-of-the-art Pt tips for near-field scanning microwave microscopy (NSMM). GaN nanostructure arrays with calibrated reference dimensions are available as Standard Reference Instrument 6012.
Read more about the Integrated Near-field Optoelectronic (INFO) Scanning Probe >>
Read more about GaN nanowires >>
Optical measurements of semiconductor nanowires: Using time-resolved photoluminescence (PL) and geometrical variations in nanowires, we demonstrated how to extract a surface recombination velocity. The temperature dependence of the PL lifetime in turn provided a means to measure internal quantum efficiency of GaN nanowires without resorting to inaccurate assumptions about quantum efficiency at low temperature.
High Q Nanoscale Mechanical Resonators: GaN nanowires have unusually low mechanical resonance losses for a nanoscale object. In collaboration with Prof. Charles Rogers at the University of Colorado, we have demonstrated a number of their unique properties and potential applications.