Presidential Management Fellows Program Helps Identify Cybersecurity Leaders 
By Arianne Jolene Gallagher, Director, Presidential Management Fellows Program, OPM's Center for Leadership Development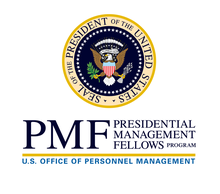 About one out of three cybersecurity jobs in the Federal Government is going unfulfilled, according to a whitepaper released by the Cyberspace Solarium Commission in September 2020.  To help respond to this evolving need in the workforce, the Presidential Management Fellows (PMF) Program sought to evaluate the level of cybersecurity aptitude and attitude among its finalists. Working with the CYBRScore® Solutions Group, the program conducted a pilot project in 2020 to determine whether PMF Finalists' scores were comparable to those of Federal employees assessed as part of the Federal Cyber Reskilling Academy, using the World of Work Inventory (WOWI) assessment.  
The PMF Program provides a great opportunity for Federal agencies to hire graduate-level individuals across all academic disciplines, assessed for leadership potential and ready to take on the challenges of public service (as Fellows). Fellows work with agencies for two years and receive leadership development with the hope of being hired permanently by their sponsor agencies.   
The PMF/CYBRScore® pilot project determined that PMF Finalists can have the aptitude (ability to learn) and attitude (successful job fit) necessary to be developed into cybersecurity professionals while possessing high leadership potential.  Moreover, the pilot determined that the PMF Program can help deliver a ground-breaking approach to the placement and development of Finalists into cybersecurity positions within the Federal Government.  Thirty-one percent of Finalists assessed in the pilot were judged to be ideal candidates for training and development in cybersecurity roles. They had the cybersecurity aptitude and attitude to successfully train and be successful in cybersecurity roles consistent with the National Initiative for Cybersecurity Education (NICE) Workforce Framework for Cybersecurity.   
Another exciting finding from the pilot project is that the ideal candidates were from a wide variety of academic backgrounds, including business and liberal arts. The pilot showed that expanding recruitment and development to academic departments outside of traditional areas uncovers individuals who could be nurtured into a variety of cybersecurity roles that do not rely solely on technical merit.  
"Comtech is pleased to work with the PMF Program. The use of tools at scale are necessary to have an effective impact on the cybersecurity talent gap that exists in the government and worldwide," said Fred Kornberg, Chairman of the Board and Chief Executive Officer of Comtech Telecommunications Corp., parent company of CYBRScore®.   
For the PMF Finalist Class of 2021, the PMF Program is expanding the project with CYBRScore® to offer the WOWI assessment to all Finalists. Ideal candidates will be paired with agencies looking to hire and develop their cybersecurity workforce. 
To find out more about the PMF Program, please go to www.pmf.gov and reach out to the PMF Program office in the Office of Personnel Management's Center for Leadership Development, Human Resources Solutions office at pmf [at] opm.gov.  
NICE eNewsletter Winter 2020-21