The President's Cup Cybersecurity Competition 2020
By Harry C. Mourtos, Cybersecurity and Infrastructure Security Agency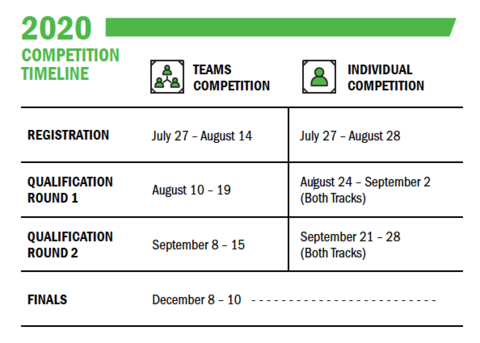 We are gearing up to launch the second annual President's Cup Cybersecurity Competition, which is open to any member of the Federal workforce and U.S. military. Registration opens July 27, with the Teams Competition kicking off August 10 and the Individuals Competition starting August 24. 
The President's Cup Cybersecurity Competition aims to identify, recognize, and reward the best cyber talent in the Federal government. Competitors are tested through three rounds of increasingly difficult challenges mapped to the NICE Cybersecurity Workforce Framework. Challengers apply their skills in real-world scenarios to complete a task or solve a problem.
This year, participants can compete as part of a team of five, as individuals, or both. The Individuals Competition will be broken down into two tracks based on work roles from the NICE Framework. Track A will focus on Forensics Analysis and Incident Response work roles, while Track B will focus on Exploitation Analysis and Vulnerability Assessment Analysis work roles. Competitors may participate in either or both tracks in addition to participating as part of a team. The Teams Competition will also be organized according to NICE work roles, focusing on eight in-demand roles. The top 10 individuals in each track and the top five teams will move on to the championship round.
The first ever President's Cup, initiated by Executive Order 13870, was held in 2019 with tremendous support from the community. We had over 1,000 registrants and over 200 active teams. Participants engaged in more than 6,000 combined hours of active challenge participation across 3,300 challenge attempts. After two qualifying rounds and a grueling final round that included a 3D virtual "escape room," a team from the U.S. Army and an Air Force Academy cadet were identified as the 2019 President's Cup winners.  The award ceremony at the White House Eisenhower Executive Office Building was hosted by Vice President Pence.  You can see a recording of the competition on YouTube.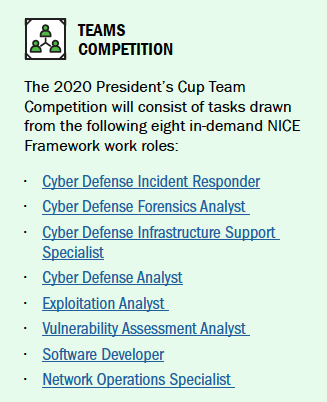 For those looking to excel in this year's competition, we have some words of advice based on last year's performance: Teams that performed well generally had a well-rounded and complementary set of skills. Successful teams often "divided and conquered" in the qualifying rounds, allowing those with more expertise in a given area to work on the challenges best suited to them. If you are looking to hone your skills before the competition starts, CISA will be releasing the challenges from last year's competition on GitHub and Docker Hub.  
We will be hosting the challenges in a cloud environment (with limited seats on a first-come, first-served basis) with minimal system requirements for competitors to use. For the two qualifying rounds, all you need is a supported web browser, which includes Chrome, Firefox, and Edge or later.
We hope you will join us at the President's Cup Cybersecurity Competition 2020! 
More information on this year's competition is available at: https://www.cisa.gov/presidentscup