Cybersecurity Opportunities in the U.S. Air Force 
By Steven Comer, Instructor, 333d Training Squadron, United States Air Force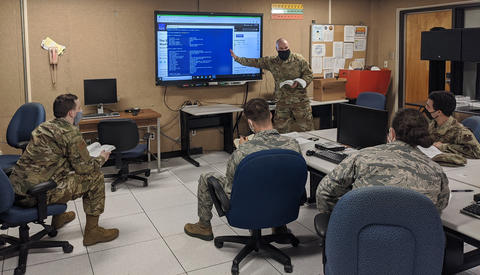 As a military service that relies heavily on advanced technology to enable operations, the Air Force has a deep interest in recruiting and training people who value service to our country, engage in a process of continuous learning, and desire to contribute their efforts to a highly technical field. 
The Cyberspace Warfare Operations career field is one of the most technically demanding and academically rigorous communities in the Air Force. While enlisted service members make up a significant portion of the Cyberspace Warfare Operations career field, the remainder of this article will focus on career pathways and opportunities available to those considering service as a commissioned officer. 
Joining the Community 
There are two distinct officer specialties that fall under the banner of Cyberspace Warfare Operations. The first is Warfighter Communications Operations (Air Force Specialty Code 17D), and its officers lead efforts that support Air Force combat operations in a manner similar to many traditional Cybersecurity and Information Technology roles in the commercial sector. The second is Cyberspace Effects Operations (Air Force Specialty Code 17S), and its officers conduct and lead offensive and defensive operations in and through cyberspace to support Air Force and joint requirements. 
There are three primary commissioning sources that help people on the journey to become officers in the Air Force. These sources include the United States Air Force Academy in Colorado Springs, the Air Force Reserve Officer Training Corps programs offered at many universities and colleges around the country, and Officer Training School for those who already have an undergraduate degree. 
Regardless of commissioning source, at some point you will have the opportunity to demonstrate your aptitude in a variety of different subjects when you take the Air Force Officer Qualifying Test, and you will later submit your preferences for the career field that you wish to enter. For those who qualify, the Air Force's Personnel Center will work with the Career Field Manager to assess you for entry into our community. 
After commissioning and entering active duty service, the first step for new cyberspace operations officers is Initial Skills Training (IST) at Keesler Air Force Base in Biloxi, Mississippi. Depending on the officer's Air Force Specialty Code (17D or 17S) and assigned job (determined during IST), more training will follow that includes tailored Initial Qualification Training and Mission Qualification Training.  
333d Training Squadron
In order to complete Initial Skills Training (IST), newly commissioned 17D and 17S officer candidates enter Undergraduate Cyberspace Training (UCT) in the 333d Training Squadron. UCT lasts approximately six months for each student and is made up of three distinct phases including the following: Officer IT Fundamentals to bring everyone to a common baseline of technical skills, Common Cyber Core to cover Air Force relevant information that is common to both 17D and 17S, and finally a breakout course specific to the officer's career field – Warfighter Communications Operations for 17D and Cyber Effects Operations for 17S. This is a rigorous and demanding course and unfortunately not all students will make it through as originally designated. The mission of the 333d Training Squadron is to prepare new Airmen entering the cyber community for the roles in which they'll serve and to coach and mentor them as they rise to the challenges presented by a demanding training pipeline. 
Lifelong Learning 
Cyber officers will follow a variety of different paths after leaving Initial Skills Training. Regardless of the specific path, Air Force cyber officers will tackle meaningful technical and leadership challenges throughout their careers whether 4 years or 20 years, and they must engage in a process of continuous learning to keep their skills sharp as they maintain currency in our rapidly changing domain. The Air Force enables cyber officers to stay current through a number of technical education and training programs, including commercial certifications, graduate degree programs, and government-only operator training courses, in addition to the leadership development opportunities afforded to all officers. A career in the Air Force is a chance to serve your country and develop yourself while leading others to do the same.