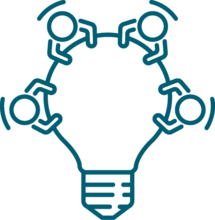 CHIPS for America is making available a teaming partner list that will enable entities to share information, foster collaboration, and advance shared goals. This list allows entities to share their contact information and capabilities so that potential applicants can reach out and consider utilizing their expertise to advance the CHIPS Act's objectives.
Fill out this form to be added to the CHIPS for America Teaming Partner List. 
Click here to access the CHIPS for America Teaming Partner List. This Excel sheet can be filtered by organization type, area of service, and other fields (updated September 15, 2023).
Since there are many entities interested in supporting the CHIPS Act that may not be eligible to apply on their own, the Department of Commerce is making it easier to facilitate potential partnerships and collaboration that can advance economic and national security interests.
This list includes businesses that may not qualify as covered entities under the CHIPS funding opportunities, as well as organizations that provide support services relevant to the execution of the CHIPS incentives program. These entities can include educational and workforce training providers; childcare providers; organizations that engage or support minority-owned, women-owned, and veteran-owned businesses; community-based organizations; labor unions; and others. This list does not directly connect entities to potential applicants, but enables external entities to explore potential strategic partnerships.
The CHIPS Program Office is not endorsing, sponsoring, or otherwise evaluating the qualifications of the entities and organizations that have self-identified for placement on the list. Entities seeking to utilize the list are advised to conduct their own due diligence of any entity they contact.