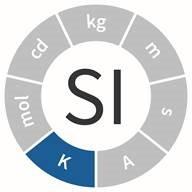 The kelvin (K) is defined by taking the fixed numerical value of the Boltzmann constant k to be 1.380 649 ×10−23 when expressed in the unit J K−1, which is equal to kg m2 s−2 K−1, where the kilogram, meter and second are defined in terms of h, c and ∆νCs. The temperature 0 K is commonly referred to as "absolute zero." On the widely used Celsius temperature scale, water freezes at 0 °C and boils at about 100 °C. One Celsius degree is an interval of 1 K, and zero degrees Celsius is 273.15 K. An interval of one Celsius degree corresponds to an interval of 1.8 Fahrenheit degrees on the Fahrenheit temperature scale.
The standard temperature at the triple point of water is provided by a special cell, an evacuated glass cylinder containing pure water. When the cell is cooled enough so that a mantle of ice forms around the reentrant well, the temperature at the interface of solid, liquid, and vapor is 273.16 K. Thermometers to be calibrated are placed in the reentrant well.
Celsius Temperature Poem

Activity:  Estimate the Celsius temperature in each scene (ice crystals, tulip flowers, park bench, and swimming pool). Recite and reflect on the Celsius Temperature Poem. Use the hints provided by the poem.
30 °C is hot
20 °C is nice
10 °C is cold
0 °C is ice
Common Temperature Reference Points
 
Celsius (°C)
Kelvin (K)
Fahrenheit (°F)
Surface of the Sun

5600

5900

10100

Boiling Point of Water

100

373

212

Body Temperature

37

310.2

98.6

Sweltering Day

40

313

104

Hot Day

30

303

86

Room Temperature

20

293

68

Cold Day

10

283

50

Freezing Point of Water

0

273

32
Oven Temperature Equivalencies
Description
°F
°C
Cool
200
90
Very Slow
250
120
Slow
300 to 325
150 to 160
Moderately Slow
325 to 350
160 to 180
Moderate
350 to 375
180 to 190
Moderately Hot
375 to 400
190 to 200
Hot
400 to 450
200 to 230
Very Hot
450 to 500
230 to 260
Temperature Conversion (Exact)
From
To Fahrenheit
To Celsius
To Kelvin

Fahrenheit (°F)

°F

(°F - 32) / 1.8 

(°F - 32) / 1.8 + 273.15

Celsius (°C)

(°C * 1.8) + 32

°C

°C + 273.15

Kelvin (K)

(K - 273.15) * 1.8 + 32

K - 273.15

K
Resources for Students and Teachers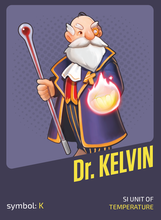 This comic book-style video animation series has been developed to help middle school students learn about the 7 SI base measurement units. With the ability to speed up or slow down particles, Dr. Kelvin can measure any temperature. The kelvin temperature scale begins at absolute zero, the coldest possible temperature and the point at which even atoms would stand perfectly still.
Navigate to more SI base unit information:
Resources