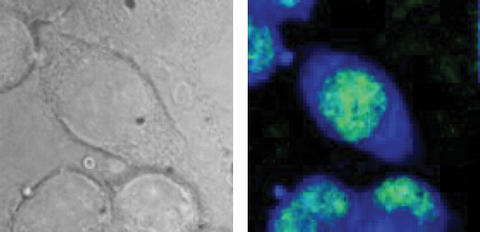 As the fields of tissue engineering and regenerative medicine (TERM) transition from a research endeavor to a successful, profitable industry, there is a need for reliable methods to assess product attributes.  Regulatory filings contain many different types of measurement data that are used to assess produce quality, safety and efficacy.  Mammalian cell measurements, including count, viability and function, are a major part of these.  We develop tools and resources for improving the quality of measurements of mammalian cell attributes, including documentary standards at ISO and ASTM, reference materials, test methods, new measurement capabilities and measurement assurance strategies.
Current Activities
Cell Counting:

Cell counting is one of the most fundamental measurements in biotechnology, from biomanufacturing to medical diagnosis to advanced therapy.

Cell number is critical for normalization of bioassays, as a quality assurance metric in manufacturing processes, and for

determining the proper dose of a cell-based therapy.

Due to a wide range in cell types and measurement modalities across the industry, it remains difficult to envision

a single standardized cell counting method or reference material to address all cell counting needs.  The NIST program aims to addresses the critical needs in cell counting including standardization and measurement assurance through our technical programs and coordination with stakeholders and standards development organizations (SDOs).
Cell Viability in Scaffolds: Tissue engineered medical products are often composed of cells seeded in a scaffold and viable cells are often required to achieve the hypothesized mechanism of action.  Since the scaffold may impede measurements of cell viability, we are developing and validating model scaffold-cell-assay systems for assessing viability in scaffolds. These model systems are being used as test beds to evaluate more advance methods, especially non-invasive 3D imaging methods.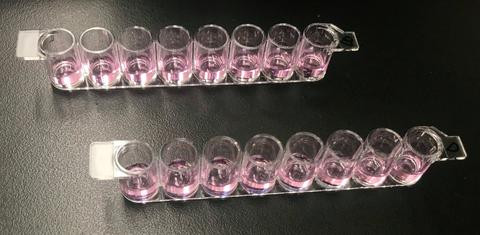 Absorbance Imaging for Assessing Quality of Retinal Pigment Epithelium (RPE): Absorbance imaging can be done any brightfield microscope by taking a picture of a cell sample and then taking a second picture with the light source on and the stage empty.  These two images are ratioed using an equation that relates percent transmittance to absorbance.  The ratioing steps introduces an "internal control" into this imaging modality, which makes it particularly well-suited for biomanufacturing where comparable images need to be collected in different labs on different equipment by different operators.  This type of imaging is also well-suited for assessing quality of manufactured RPE since RPE become pigmented as they mature and absorb light.