Pumpkin pie uses sweet sugar pumpkins in this homemade autumn recipe show-stopper!

 

I

NGREDIENTS
1 pie crust (uncooked)

500 g sugar pumpkin, cooked and pureed 

350 g evaporated milk

100 g sugar

50 g brown sugar

5 g cinnamon

2.5 g salt

2.5 g ginger 

1 g nutmeg

0.5 g cloves

2 slightly beaten eggs

Water
TOOLS
Knife, Spoon, and Spatula

Parchment Paper

Baking Pan

Foot Processor or Blender

Bowl

23 cm Pie Plate

Cooling Rack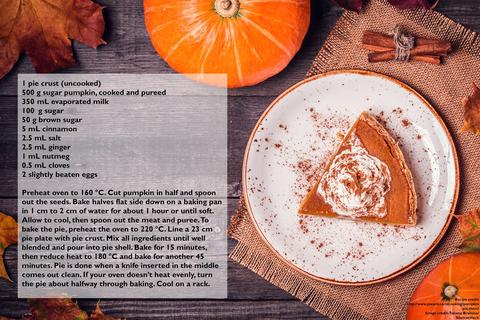 Preheat oven to 160 °C 

Cut pumpkin in half and spoon out the seeds

Bake halves flat side down on baking pan in 1 cm to 2 cm of water for about 1 hour or until soft 

Allow to cool, then spoon out the meat and puree

To bake the pie, preheat oven to 220 °C 

Line a 23 cm pie plate with pie crust

Mix all ingredients until well blended and pour into pie shell

Bake for 15 minutes, then reduce heat to 180 °C and bake for another 45 minutes

Pie is done when a knife inserted in the middle comes out clean

If your oven doesn't heat evenly, turn the pie about halfway through baking

Cook on a rack

Enjoy!
TIPS
Gather all ingredients, tools and equipment before undertaking any recipe. 

Adults will closely supervise, observe and evaluate skills before permitting independent kitchen work. Prior to undertaking this recipe, collaborate to identify, discuss and avoid kitchen hazards, such as safely applying heat using an oven and adopting food hygiene best practices.

Results may vary.
METRIC COOKING CONNECTIONS
EXPLORE THE METRIC PROGRAM
Everyday with Metric | National Metric Week | NEST-R (STEM Registry) | NIST Education Resources | SI Education & Training | SI Units
Disclaimer: Any mention of commercial products within NIST web pages is for information only; it does not imply recommendation or endorsement by NIST.