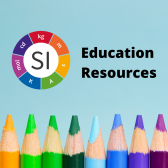 This collection of resources can be used to enrich classroom curriculum and reinforce student learning. These resources are helpful to students as they become familiar with the metric system and learn more about SI basics. This site has numerous educational materials published by NIST that can be downloaded and freely reproduced. Contact the TheSI [at] nist.gov (NIST Metric Program) regarding handouts available in bulk so that each student can receive a copy, such as NIST SP 365, a laminated Metric Conversion Card, which has an 8 cm rule on one edge.
Highlights
SI Teachers Kit: U.S. educators can obtain a free set of metric education resources for your classroom by contacting TheSI [at] nist.gov (include your name, school, subject, grade level, phone number, and mailing address).
Professional Development: Educators are invited to attend Metric Program technical training and professional development courses. Explore the Calendar of Events to identify currently scheduled learning sessions, typically designed for 90-minute time blocks (or less).
FAQ: How do I get a metric ruler?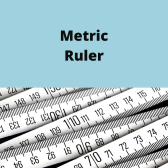 Metric rulers are available from many retail vendors, which can be identified by using search terms such as "metric rule," "meter stick," or "metric stick." Printable rulers such as the centimeter Color-square rules, can be color printed on to overhead transparency sheets to make inexpensive metric rulers. You may also be interested in similar printable teaching aids that create a liter cube or a cubic decimeter box, which are easily constructed using cardstock.
National Position Statements and Resolutions. Metric system (SI) knowledge, skills, and abilities are critical education elements and measurement science is essential for Science, Technology, Engineering, and Mathematics (STEM) careers. Learn more about U.S. professional education organization positions on teaching the SI with these examples.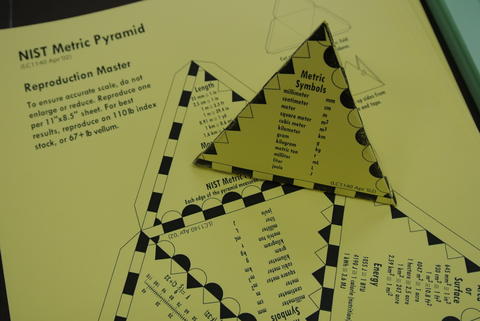 Learning the SI? Keep common SI symbols and conversion factors on your desk. Using card stock paper, print out the easy to construct three-dimensional NIST metric pyramid! The pyramid has a list of the metric symbols, and conversion factors for area, temperature, length, and mass.(Great for students and teachers alike)
A sheet of printable activity cards that the children can imprint with their name, height, and weight in metric units. Print the one page template on Tabloid/Ledger paper (431.8 x 279.4 mm or 11 in x 17 in) in the needed quantity. Use the indicated crop lines to cut the individual cards. Caution: The ruler edge will not be accurate if other paper sizes are used.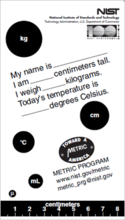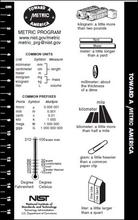 A sheet of printable ruled bookmarks with visual references to metric measurement units. Print the two (2) page template on Tabloid/Ledger paper (431.8 x 279.4 mm or 11 in x 17 in) in duplex (back-to-back). Use the indicated crop lines to cut the individual cards. Caution: The ruler edge will not be accurate if other paper sizes are used.
Presidents' Day is a national holiday celebrated on the third Monday in February and is as a day where all U.S. presidents are remembered and honored. Enjoy the holiday by exploring these measurement education resources. Read More.
The Measurement League: Guardians of the SI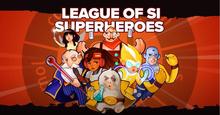 This comic book-style video animation series has been developed to help middle school students learn about the 7 SI base measurement units. The Measurement League are superheroes dedicated to the fight against uncertainty, imprecision, and inaccuracy and to improving the quality of our lives and the things we build. Videos are available on the NIST YouTube Channel and Education page.
Companion Resources:
This document was created by the U.S. Metric Board with the purpose of providing background and tools to conduct a metric usage seminar based on hands-on learning opportunities for the participants. The seminar consists of background on the metric system, learning metric terms, and practicing making metric measurements. The exercises are designed to help people learn to "think metric" in their daily lives.
This site goes beyond the standard definitions of units. The site has good depth on the use of metric unit prefixes, how to write them, and symbols and abbreviations. There is also a history of U.S. measurement and information on other measurement units.
Measurements are essential to ensuring fairness in sports. SI measurements are used on everything from keeping accurate event times, the correct pressure of sports balls, and measuring competition distances. Learn how measurement plays a big part in providing a level playing field for all athletes.
Resources