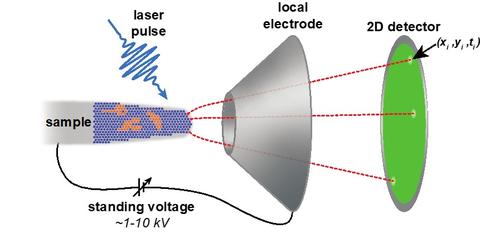 Sub-nanometer-resolved 3-D chemical mapping of any atom in any solid continues to be an unattainable goal of materials research. If possible, it would have a profound economic impact on U.S. industries collectively worth hundreds of billions of dollars, such as automotive, aerospace, microelectronics, renewable energy, advanced manufacturing, advanced electronics, nuclear storage, and biomaterials. All of these diverse, materials-intensive industries depend on microstructural features, elemental composition control, and chemical processes occurring at sub-nanometer dimensions. Thus, for process development, verification and qualification, quality assurance, failure analysis, and competitive engineering, U.S. industry has a very real and pressing need for the development of metrology tools that can provide sub-nanometer-resolved 3-D chemical maps of any elemental isotope in a complex heterogeneous nanostructure with high analytical sensitivity and decreased uncertainty.
Conventional laser-pulsed atom probe tomography (L-APT) combines a point projection microscope with time of flight (TOF) mass spectroscopy, and operates by means of laser-assisted thermal field ion evaporation. A high standing voltage is applied between the specimen and detector and held just below the threshold for ionic field evaporation.  A pulsed near ultraviolet (NUV) laser imparts a weak thermal transient that triggers field ion evaporation of an atom. This process progressively deconstructs the specimen, ideally one atom at a time. The ions are collected on a 2-D position sensitive detector and isotopically identified by their TOF. 3-D "reconstructions" are then computed using a sequential back projection algorithm. APT can in principle detect chemical concentrations as low as tens of ppm while simultaneously rendering 3-D isotopically identified chemical maps of any element (including hydrogen) with sub-nanometer spatial resolution.
Even though L-APT is the state-of-the-art for 3D chemical mapping at the nanoscale, it suffers from several fundamental limitations that drastically restrict its performance and utility, can lead to high uncertainty in measured composition, and hinder the absolute quantification of its data. The extreme ultraviolet atom probe tomography (EUV APT) project at NIST aims to address some these limitations by improving on the mechanism of thermal field ion evaporation by replacing the near ultraviolet laser with a coherent extreme ultraviolet light source.
Coherent EUV light has potential benefit in atom probe tomography (APT) due to the fact that it is highly absorbed by nearly any material of interest, the photon energy is above the ionization potential and work function of any element, and it has a very shallow absorption depth when compared to NUV light.
We have built the world's first EUV atom probe microscope, and demonstrated for the first time that EUV light can be used to trigger controlled field ion emission from the apex of a needle-shaped specimen as is required to perform APT.
Our ongoing efforts are focused on:
Designing and building an improved second-generation EUV atom probe microscope capable of delivering higher photon flux to the specimen
Understanding the mechanism of EUV-triggered field ion emission
Finding unique areas of application of this new technology, especially for materials where conventional NUV APT fails or does not provide accurate, precise, or easily interpretable results. Some examples of these are soft and biological materials, oxides, water ice, and salts.